Delino passes 1K points, but Helix wins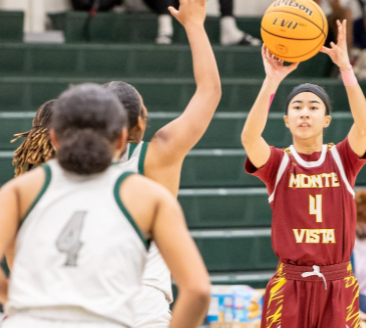 Monte Vista senior Meadow Delino puts up a shot on Friday. / P.J. Panebianco
2021-22 EAST COUNTY PREP GIRLS BASKETBALL
By Dave Dickens
EastCountySports.com
SPRING VALLEY (2-4-2022) — Anytime a personal accomplishment is achieved, as with all athletes, the win comes first, as does the team altogether.
As tip-off began, Meadow Delino knew she had three points to reach 1,000 for her career at Monte Vista High, but has always been a team-first player, very unselfish when it came to her own stats. It has also been a tough year for the Lady Monarchs, not being able to finish games, but were within ten points in a few of those losses with late surges in the fourth quarter. This is definitely a resilient group, they are always keeping their eyes forward and a short memory regarding the previous game played.
Friday evening was to be special not only for senior Delino but also to avoid being swept by league rival Helix. First order of business on the defensive side, try to contain the extremely talented junior Aaliyah Stanton, who also had quite a few steals in this one against Monte Vista and is always a threat at the rim and in the paint. Helix went on a 10-2 run three minutes into the first quarter, led by guess who? Stanton, who is an incredible player.
The Monarchs would battle as well with Delino hitting one free throw in the first brought her to 998 points. Let it be known that the high flying Lina DeLeon was rebounding, adding buckets, steals, and great defense as always.
Micyaah Flournoy was also battling on defense and also added a few points. The score after the first quarter was 18-10, the Monarchs playing their best at the end of the first.
Helix was on a 9-0 run when an absolutely blown call took place as Saniya Raley went down with 1:35 left in the second quarter. The play continued as Raley was on the floor clearly writhing in pain as it took the Helix coach (Freddie Garrett) to utilize his timeout to stop the game and get Raley some assistance limping off the floor. Flournoy would score the only two points in the second quarter,
With the Monarchs down 35-12 at the half, the highlight of the night finally came into play as Delino was fouled with 6:25 left in the third quarter and shot two. She made both of them, breaking 1,000 points, and going ahead to 1,001 points. What an incredible feat. This was a huge accomplishment as Delino had been playing for this squad since she was a freshman.
For the second half of play, once again the Lady Monarchs won, 26-21, after Helix dominated the first half behind their top scorer, Stanton, who totaled 27 points on the evening. Monte Vista didn't quite have the start that would have made the second half come together, however, the Helix defense, especially in the second quarter, dominated, holding the Monarch offense to two points in the second quarter. They fought the Highlanders twice, once again a little short, losing 53-38.
Delino would put up 19 points, four three-pointers, making her own history with 1,016-lifetime points and counting. One other player who was one of the top five of all East County players of all time was Paula Mascari, who played all four years from 1982-1986 for Monte Vista girls basketball and had scored 1,856 points all time.
"It felt good. Just to be part of that 1,000 points club is an accomplishment. Once I hit my three free throws to hit my 1,000 mark, there was a sense of relief because of all the talk this week was about my 1,000 points and now it's an accomplishment for the books. We let Helix jump on us early and so we had to keep working hard on defense to close the lead. When Saniya went down they should have stopped the game, everyone was upset. I saw Saniya fall right in front of me and she went horizontal and hit the deck hard. Everyone on that side of the floor had stopped playing while I was at the other end playing 1-on-2 and I was really considering fouling to stop play, but I knew I already had three fouls. Luckily, the Helix head coach called a timeout and we were all grateful he did. Thank goodness Saniya was okay and it wasn't anything too serious," said Delino.
DeLeon ended the evening with nine points, and a three-pointer, along with a fabulous night on defense, as always.
"I feel like I've worked very hard to be where I'm at now. I've definitely improved over last year. However, I wasn't feeling good about my shots in the first half, but when the second half came I was getting into my comfort zone. I am proud of Meadow, she worked very hard to get where she is now and deserved to break the 1,000-point mark. I feel like if I would have worked a little harder, I could have done more for the team. I believe I made up for some bad shots with good passes and playing great defense," DeLeon said.
Up next for the Lady Monarchs, a trip to El Capitan to face the Lady Vaqueros. The Monarchs took care of the Vaqueros, 64-27, at Monte Vista last time around. They will try for the sweep on Friday, Feb. 11 at 5:30 p.m.
583 total views, 1 views today