Division IV, V schools seek playoff runs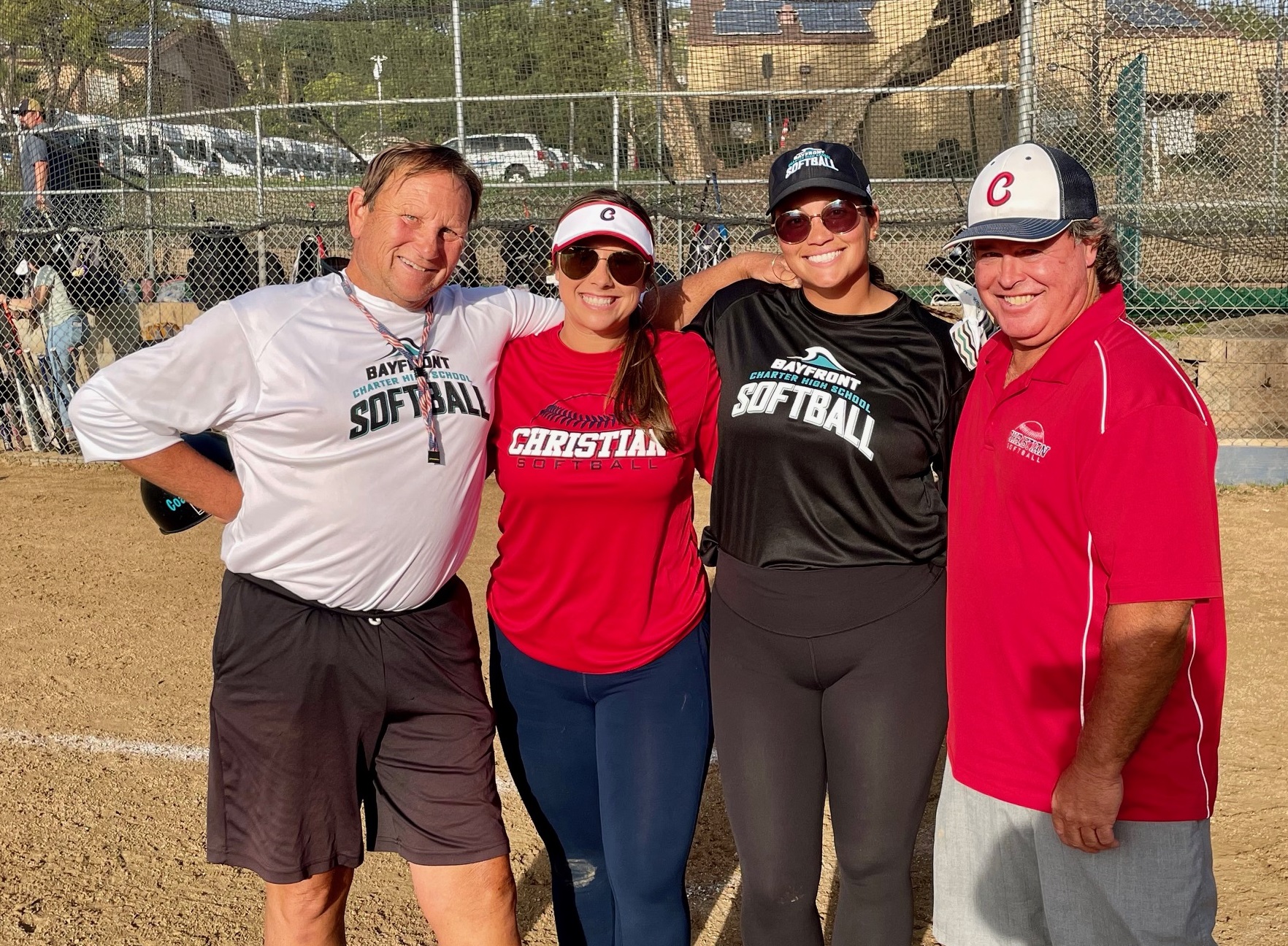 2022 EAST COUNTY PREP SOFTBALL
ECS staff report
ESCONDIDO — On an important day for CIFSDS softball n both Divisions 4 and 5, the big winners proved to Foothills Christian… and in a big way.
The Knights, which have their highest current rating at No. 2 in Division 5, opened Pacific League play by clobbering the Classical Academy Caimans, 15-2 in five innings, on Monday (Mar. 21). The contest was held at historic at Washington Park, which recently held its centennial.
Foothills Christian remained unbeaten at 4-0 overall with the victory, while Classical, which is the No. 3 ballclub in Division 4, dropped to 3-2.
Freshman pitcher Emma Romeka carried a 1-hit shutout into the fourth innings before Classical dented the scoreboard. But by then, Foothills had cleared the bench holding a 13-0 lead. Romeka struck out eight Caimans batters.
Of course, 15 errors by the home side aided the Knights cause, scoring in every innings before the mercy rule was invoked. The opening 13 runs were unearned.
For the Knights, freshman shortstop Gabby Wolford registered a pair of base hits from the leadoff spot. She scored four times and added an RBI.
Others with run-scoring hits were: .center fielder Reese Winchester and third baseman Michaelyn Able, Except for the sophomore Able, the others are all freshmen, meaning FCHS should have an excellent future.
Foothills Christian returns to the North County on Friday, going to the east end of Oceanside to meet the Guajome Park Frogs in another league affair.
Classical's runs saw Milena McConnell drill an RBI triple over the center fielder, then scoring moments later on a Grace Sega sacrifice fly to right field.
El Cajon Valley 18, CVLCC 6
EL CAJON — The El Cajon Valley Braves, which was tied for first among all CIFSDS Division V schools in victories with five, took over the lead following a home-field triumph over the Cobra of Chula Vista Learning Community Center.
ECVHS had been tied with Fallbrook and Calipatria with five wins. However, thanks to their 18-run outburst on Monday (Mar. 31), the Braves have now scored 120 runs over seven contests, a rate of 17.1 runs per outing.
The Braves (6-1 overall) play one more before Grossmont Valley League play commences, going to Hoover this Friday at 4 p.m.
Christian 9, Bayfront Charter 8 (8 inn.)
EL CAJON —. In a repeat of a wild contest between these schools just a few weeks ago, the Christian Patriots finally survived on a Rachel Stephens grounder which turned into a fielder's choice brought home the winning run, downing the visiting Bayfront Charter Sharks, 9-8 in 9 innings,Monday (Mar. 21) at Roma Dawson Field.
Fighting through several lead changes, Stephens (1-5, R, RBI) roller brought home Ashley Wood (2-5, 2R, 2 SB) and procure the victory.
Both teams combined for 19 hits on the day with the Patriots collecting 12 and the Sharks having seven on the day.
Bayfront Charter (5-6 overall) would get the scoring started in the top of the second inning when Carolina Vidrio hit a ball that was misplayed allowing Iliana Romero to come into score making it 1-0.
Later in the fourth still clinging to the 1-0 lead, the Sharks would take advantage and score three more runs and extend their lead to 4-0. Lizette Vargas drove in a run, Zoe Andrade grounded out which resulted in Emma Quijana and Vargas scoring.
Trailing 5-0 in the bottom of the fifth inning the Patriots needed something and they certainly got it when Kate Manes (2-4, 2R, RBI, 2 2B) drove in Payton Grosset (2-4, R) to make it 5-1, the next batter Stephens hit a fly ball that was misplayed allowing Wood to come in to make it 5-2, with runners still on bae Allyson Moody (2-4, R, 2 RBI, SB) came to the plate and roped a base hit to right field allowing both Manes and Stephens to race around and score to pull within 5-4.
Christian would take their first lead of the contest later in the inning when Kaitlyn Moody (1-4, 2 RBI, 2B) hit a hard shot to center field for a double that scored both Allyson Moody and Tyler Krystek (R, RBI) to make it 6-5. The next batter Jordyn Krystek (1-3, RBI) followed with a sacrifice fly that allowed Lucy Sherburne (1-2, R) to tag up and race home to make it 7-5.
The Patriots added another run in the bottom of the sixth inning when Tyler Krystek hit a ground ball out that allowed Manes to race home to give the Patriots an 8-5 lead.
Unfortunately, multiple errors by the Patriots in the top of the seventh inning would lead to the three runs needed by the Sharks to tie the game up at 8-8.
With the game still tied 8-8 in the bottom of the eighth inning the Patriots started off on the right foot as Wood led off with a base hit, she would advance to second on a ground ball out and proceed to steal third safely which set up the winning play for the Patriots.
Correspondence Adam Paul contributed to this report.
573 total views, 1 views today