Hillers want a say; Helix escapes in 10
A Steele Canyon player awaits a throw.
2022 EAST COUNTY PREP BASEBALL

ECS staff report
FLETCHER HILLS — A new focus has been discovered by the Grossmont Foothillers. Besides the first 11 days of the season when they opened their campaign at 5-0 as a tournament champion, the defending CIFSDS Open Division finalist, have posted a hideous season.
However, you know what every coach will tell their players: "The second season is coming!'
In coach-speak, the playoffs are 'round the corner.
And Grossmont looks to be on the brink of becoming a surprise contender thanks to Barron Zamora and Noah Barnes, the heart of the ballclub's batting order.
On Tuesday (May 10), Zamora collected a career-high six RBI, while Barnes, an all-East County selection in 2021, added three more, as the Hillers did back-flips over visiting Santana, 12-4.
Zamora and Barnes both homered, along with River Diaz De Leon in the romp.
Once again, when a team turns a double play, it turned into instant offense. In this case, Grossmont turned a double play in the third, followed by Zamoira's blast — a grand slam to highlight a 5-run third inning to leap to a 6-0 lead.
A walk, single, and walk were self-inflicted by Santana, followed by a bases-loaded walk to Justin Tucker to open the scoring.
Faced with the prospect of pitching to Zamora or Barnes — Barnes has the far-higher reputation — the Sultans pitched to Zamora.
Boom!
"We have to stay hot with our bats and continue hitting the ball hard every game," said Barnes. "It's the simple stuff that we have to do. The ability is here, we just have to execute better in both of those aspects of the game like we did today."
Santana crawled back to within 6-4, but the Hillers posted six runs in the fifth — featuring Barnes' 3-run shot — to pull away.
Foothillers pitcher Jacob Holman, a freshman just recalled from the junior varsity, collected his first varsity victory with four solid innings. Holman allowed just two runs on four hits. More importantly, he walked just one, while Santana yielded six walks.
"Yes, I was so excited when I was asked to pitch for the final home game of the season," Holman noted. "I really wanted to help my team win."
"I just went out there to throw strikes and my defense really came through for me. And it was awesome that the bats were on fire this game, too."
"I am just so happy that we were able to get the win on our senior night.
It was possibly the final Grossmont (9-16-1 overall, 3-8) home game of the season at Gizoni Field, capping the regular season at Helix, then going on the road for the playoffs.
However, as of 6 a.m. Wednesday, they were listed 12th in the CIF computer power index. If that holds, they would host Bonita Vista in a play-in, with the winner advancing to meet Helix (which dropped from 8th to 9th despite defeating Steele Canyon in extra innings).
Santana (17-8), which just held first place in the GHL less than two weeks ago, fell to third at 6-5 after dropping its third straight and 5-of-6 contests.
The Sultans are currently listed fourth by the CIF computer, currently slated to host No. 5 Torrey Pines in the Open Division field.
---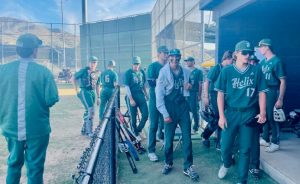 Helix 9, Steele Canyon 8 (10 inn.)
RANCHO SAN DIEGO —With apologies to Helix baseball fans who tweeted their displeasure on comments about the Highlanders' bullpen, the statistics were clear: five times so far this season, the Scottie bullpen either gave away a late lead or lost a game in which the starting pitcher left in a tied contest.
Anything but was true on Tuesday in an amazing performance.
Armando Nuanez and Wyatt Laub combined to fire 6.2 innings of shutout relief — the equivalent of one out shy of a regulation ballgame — giving the Helix offense enough time to rally to tip pesky Steele Canyon, 9-8 in 10 innings m in yet another thrilling Grossmont Hills League nail-biter.
With one down in the fourth, the final Cougars run saw catcher Tommy Molina pump his seventh homer of the season. The blast moved Molina into a tie for fourth place on the East County homer standings.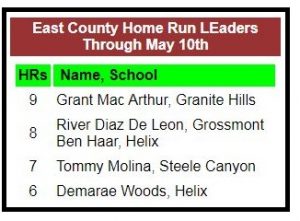 .
Then Nuanez and Laub slammed the door.
Nuanez went four innings, including 3.2 frames following the Molina shot, then Laub was nearly perfect with four no-ht frames, yielding just a walk while striking out five Steele Canyon batters.
Helix waited to the last second to force extra innings as the Cougars yielded to the pressure.

In the seventh, a dropped third strike still led to the first out, but was a sign of the nervousness of the Cougars, as Helix's Anthony Matthiesen (12, above right) walked, David Blome reached base on an error, then Cameron Tarling grounded a basehit through the left side of the infield for the game-tying run.
In the 10th, the inning belonged solely to Laub.
The senior led off with a double, moved to third base on a Trevor Young basehit, then gave the Highlanders the lead on a sacrifice fly by Demarae Woods.
Laub then closed the victory with a 1-2-3, closing to retiring seven straight batters. The streak started after an intentional walk to Molina in the eighth when Steele Canyon had the potential game-winning runner on second base with two down.
Early on, the ballclub's traded 4-spots in the first. Included with a Helix grand slam by Woods with a grand slam for his fifth homer of the season.
Helix (16-9 overall, 8-3 GHL) saw Woods finish with five RBI, while Laub posted a pair of doubles.
Steele Canyon (13-14, 1-10 GHL) had seven players drive in runs, including two RBI by Nate Custeau. Meanwhile, Taylor Corella also stroked a pair of doubles.
561 total views, 1 views today