Schoolin' the school: Stars pound SDSOB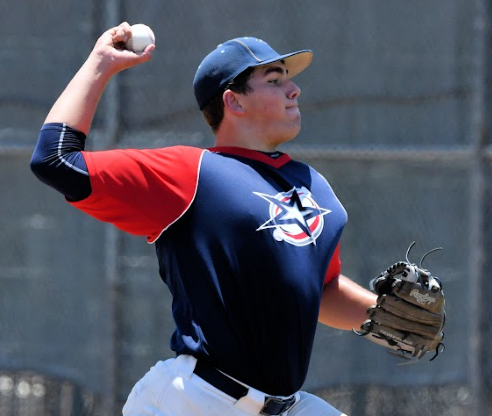 2022 SAN DIEGO STARS SUMMER COLLEGIATE BASEBALL
By Nick Pellegrino
ECS staff writer
KEARNY MESA — A member of the coaching staff from the San Diego School of Baseball approached the coaching staff sitting in the San Diego Stars dugout and asked, "Had enough?'
The question confused the Stars' braintrust, so they asked what he meant.
"Have you scored enough runs?," he replied clearly for all to hear.
At the time, considering the Stars were coming off a loss when SDSOB tallied 13 times in the first game of Saturday's double-header, did the SDSOB coach want the Stars to resign or stop the ballgame?
Besides, the Stars still had players seeking playing time and were waiting to be called upon.
Thus, the Western Baseball Association contest continued to its full conclusion, as the Stars captured the rubber game of a 3-game set by waltzing to a 19-5 decision.
Did SDSOB think the Stars were running up the score? Considering SDSOB nearly swept the twin bill — the Stars held on for a 5-4 win in the nightcap — some observers may have thought SDSOB may have been the better club entering Tuesday's (June 28) series finale at San Diego Mesa College.
It's just another case study on why these ballclubs rarely met — until SDSOB joined the WBA — to help determine the area's top baseball development program.
The Stars utilized a 9-run outburst in the fourth to mount a hefty 13-0 cushion. The rally was capped by a 3-run homer by Tyler Begg. An inning later, the margin reaching 15-0 — while Stars pitching was also tossing a no-hitter through five innings —  leaving the short-handed SDSOB coach staff bewildered.
Ethan Wright (Santana HS) continues to thrive at the leadoff spot, batting 3-for-6 with four RBI and two runs to ignite the offense.
The top third of the Stars batting order combined for nine RBI, as Danny Zapeda drove in two runs, then Brady Joslyn knocked in three.
And when No. 4 ad 5 hitters Jonathan Marshall and Kip Famolaro loaded two RBI each, the collective effort added up to the program's top offensive performance of the summer.
The Stars were also polite by running one of their high school-age players on the mound.
Skyler Sacena, a senior-to-be at Granite Hills, fired four innings of no-hit ball to gain the victory.
Sacena struck out three batters, then qualified for the victory after just four frames based on the sportsmanship rule, then was followed by an inning of no-hit ball by Cole Hartman (Madison).
The Stars (7-3 overall) return to action Thursday (June 30), going to Vista High to face the North County Bulldogs. First pitch is slated for 4 p.m.
690 total views, 1 views today