Hawks on the move… to Mt. Helix campus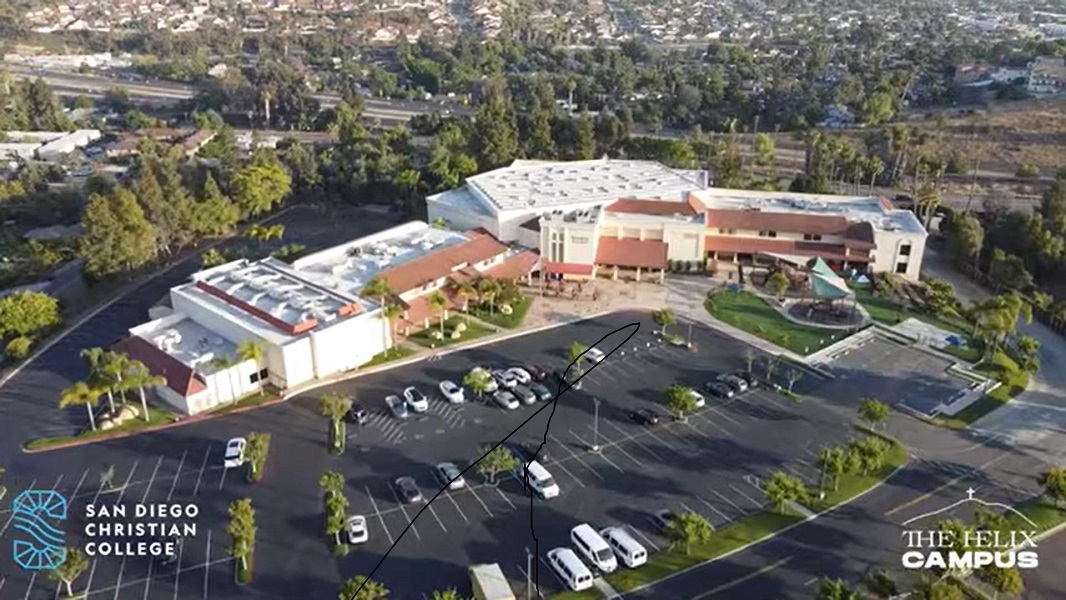 2022 SAN DIEGO CHRISTIAN COLLEGE ATHLETICS / LOCAL COVERAGE / IN THE COMMUNITY
By Nick Pellegrino
ECS staff writer
CASA DE ORO — San Diego Christian College, which relocated to a business ark in Santee five years ago, announced the school will relocate once again be join the property at Faith Chapel of Mt. Helix.
The 16-acre, gated  facility features newly renovated 1,900-seat auditorium, gymnasium, coffee shop, and more/
San Diego Christian College president Bill Crawford noted the move will significantly increase the overall campus size providing better opportunities to learn, teach and grow in our academics and our faith in Jesus Christ.
"We are blessed and excited for this exciting new season for San Diego Christian College," said Crawford. ""The students are always at the forefront of our mind and moving to the Mt. Helix Campus allows us to offer a more comprehensive experience to our students."
"I cannot wait to see the students taking advantage of the additional space through intramural sports, additional study spaces, and outdoor areas."
The institution spent most of the its 51 years as part of what is now known as Shadow Mountain Community Chirch on Greenfield Drive in eastern El Cajon.
There were no obvious problems with the Santee campus, except the rent cut into the school's fiscal responsibilities.
"We wanted a stronger church connectivity," he added. "The move will reduce real estate expense by sharing costs and provide a better campus experience.
Officially, the school remains an independent, 501 (C3)corporation and is simply leasing space from Faith Chapel, located at 9400 Campo Road, Spring Valley, Calif. 91977, and is less than nine miles from the Santee location.
"The only thing that will remain the same for the time-being is the apartment complex we used last year for student residences," said Brian Schroeder, the director of athletics. "Fortunately, the trolley is right there, thn we can shuttle our students from the Spring Street Station just a mile to our beautiful, new campus."

Athletics
Following many seasons as a vagabond problems, playing indoor home games at a wide variety of venues around East County, the Hawks found a home when Ryan Athletic Center opener. The 3-court arena holds a 94-foot professional/collegiate basketball court (high schools utilize an 84-foot court), which has been an advantage of the Patriots interscholastic teams.
However, with the move to Santee, the school's sports programs again played at many sites, including the new Salvation Army Gymnasium in El Cajon.
With a gymnasium availavle at Faith Chapel, Hawks indoor sports have a new home to practice.
"Volleyball will play and practice at a church just down the road which has a gymnasium, while basketball will continue at the Salvation Army Gym," Schroeder noted, who noted the school also has options on locales for baseball and softball.
Softball may continue at SportsPlex USA in Santee, while baseball will continue to rotate among three area community college until a ballpark of its own can be constructed.
Note: Becayse of budget problems, the Hawks have dropped their NAIA nationally ranked men's and women's tennis teams.