EAST COUNTY FEARLESS FORECASTER – Week Seven
Updated: September 30, 2022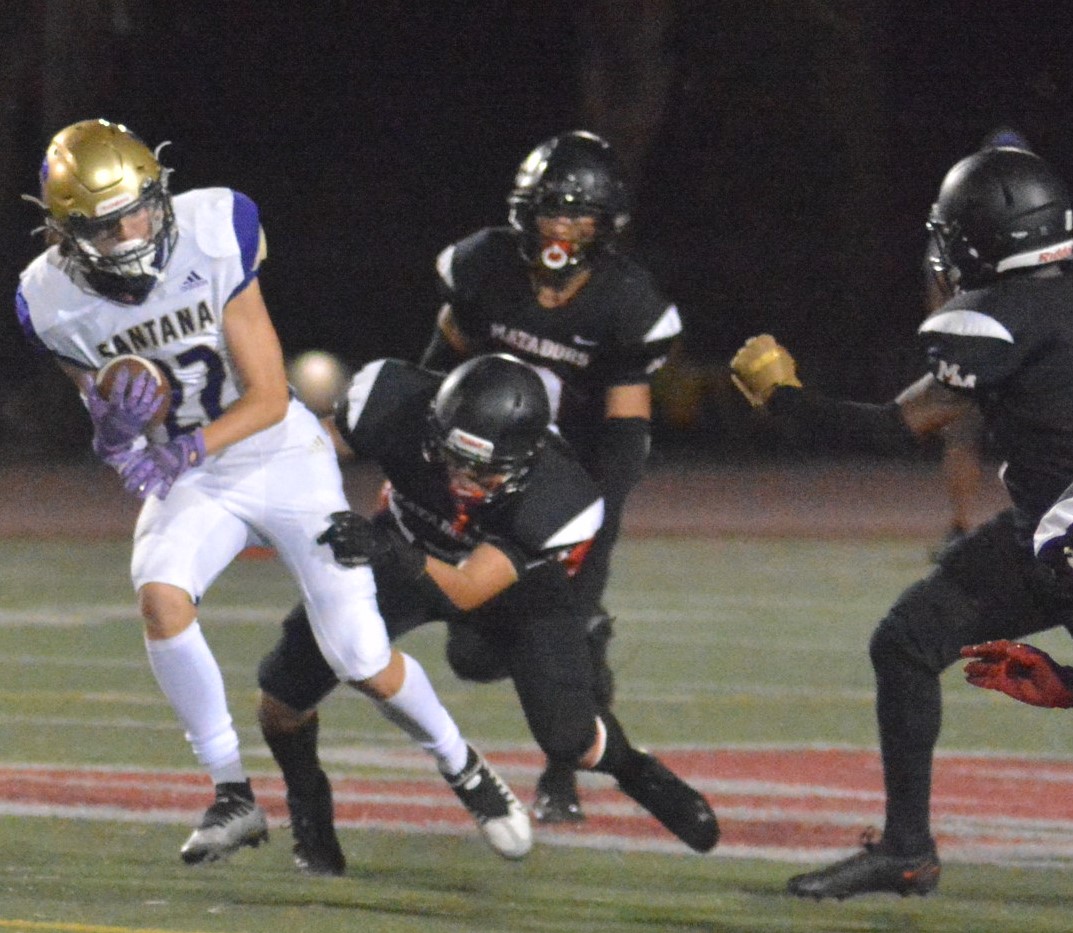 Reed Robertson (22) of Santana carries against Mount Miguel. / Ramon Scott
2022 EAST COUNTY FEARLESS FORECASTER – Week Seven
By Ramon Scott
EastCountySports.com
SANTEE — The Santana Sultans have shaken off their roughest start in nearly a decade and put themselves into the biggest game of the season thus far when they host the El Capitan Vaqueros on Friday night at Community Stadium.
While the collective eyes of local football fans were realistically set on the final night of the season in the Grossmont Valley League when the defending champion West Hills Wolf Pack host the Vaqueros in a rematch of last year's title-determining game, the Sultans have bounced back from an 0-4 start with wins over Valhalla (48-6) and Mount Miguel (35-13) to set up a near-elimination game of their own with El Cap tonight.
The Vaqueros are 1-0 so far in the GVL (3-2 overall) with a 55-21 win over the El Cajon Valley Braves two weeks ago. El Capitan comes into the key matchup off a bye.
Santana was impressive last week in overcoming a 17-7 halftime deficit to defeat the Matadors in Spring Valley.
Sultan senior Nick Leger played his finest varsity game to lead his team to the comeback win. Leger, splitting time at quarterback and receiver, rushed for two touchdowns and caught another in the victory.
Santana's Isaiah Lloyd had a pair of sacks to lead the defense against Mt. Miguel.
El Capitan will still be favored when they take the field despite the Sultans' surge. After all, the Vaqueros had won eight straight games at Community Stadium with the last Santana win coming in 1999 (42-21) before a 2020 Spring meeting won by Santana, 42-7.
The Vaqueros come at you first with the run with senior Angel Diaz, who has rushed for 373 yards this season. However, they are competent at quarterback with senior Bruce Newland III and sophomore Brandt Barker. The duo have shared the snaps for the most part and combined for seven touchdown passes.
El Cap sophomore Chance LaChappa is one of the top breakout stars of the season in the East County. The two-way player has 17 receptions. He's joined on defense with senior standouts Austin Cordeiro and Dom Denha.
While the storyline on the field is a welcome feature, a worthy sidebar is the matchup of veteran coaches Ron Burner, of El Capitan, and Tim Estes, of Santana, both of whom can set milestones with a victory tonight.
Burner has 99 career victories at El Cap, while Estes tied the school record for most career wins at head coach with 57 with his former coach, mentor, and boss, Dave Gross.
Burner is 3-1 all-time against Estes. Burner's son, Ron, is a defensive coach for Santana.
El Capitan has won 12 of the 15 meetings this century. The teams didn't meet from 2014-19 when the Vaqueros were in the Grossmont Hills League. The Vaqueros lead the all-time series, 34-17-2.
Santana's losses were to good teams in Point Loma and Fallbrook, while the Sultans lost to Montgomery 6-0 on a late fourth-quarter touchdown, then the following week, fell to Coronado, 14-13, at home in overtime.
El Capitan won last year's game, 35-0, after scoring four quick touchdowns in the first quarter. Newland III threw a touchdown pass and Diaz rushed for a TD in that one.
A perpetual trophy – a rodeo whip – appears to have been retired. A Santana win isn't out of the question but would still be considered an upset… EL CAPITAN, 24-21.
VALHALLA (0-6, 0-2 GVL) at EL CAJON VALLEY (2-4, 1-1 GVL) — The Braves and Norsemen meet for the second consecutive season but just the third time in 21 years.
Valhalla won last year's matchup, 41-25, which snapped a five-game losing streak for the Norsemen, a span in which they scored just one touchdown.
El Cajon Valley receiver Paris Dixon, who had a pair of touchdown receptions in last week's 37-8 win over Monte Vista, had a touchdown and an interception in last year's game against Valhalla.
Braves' rushing star Kal-el Gordon, who sat the first half of the victory against the Monarchs before scoring on a 50-yard run in the second half, had 230 yards against the Norsemen last season but didn't reach the end zone.
Junior quarterback Darick Dubose had a 65-yard touchdown run for ECV. Dubose also had nine tackles, including two for loss (1 sack).
Junior Chris Cosio had an interception for the Braves.
Last season against the Norse, Omar Jaimes, now a junior, had nine tackles and a fumble recovery.
The Braves' win over the Monarchs last Friday was the Braves' largest margin of victory in Grossmont League play in 25 years.
The first release of the CIF power rankings has El Cajon Valley currently fifth in Division V.
The Norsemen lost to West Hills, 42-14, last Friday but junior Dominic Silva had a breakout performance with 141 yards and two touchdowns.
Valhalla averages five points per game while allowing 31 per contest.
The Norsemen have won five straight in the series with the last Braves' win over Valhalla coming in 1997 (28-20, at Valhalla).
The Braves are at least two touchdown favorites to end the streak… EL CAJON VALLEY, 35-21.
MOUNT MIGUEL (2-4, 0-2 GVL) at MONTE VISTA (1-4, 0-1 GVL) — The battle of Spring Valley has been a toss-up series for the last 25 years.
The teams have split the last 24 meetings, as well as, the last 10 matchups. The Matadors lead the all-time series, 35-25.
The Matadors are a clear-cut favorite on the road tonight, however.
Mount Miguel won last year's city championship, 41-0. as current Matador junior Jeremiah Castillo threw a touchdown pass in the victory.
The Matadors were looking to make a mark in the Grossmont Valley League by taking a 10-point lead into halftime against Santana last Friday but were outscored, 28-7, in the second half, in a 35-24 loss.
Castillo had a pair of touchdown receptions from quarterback Matthew Barton. Barton also ran for a touchdown.
The Monarchs rushed for nearly 200 yards per game featuring a trio of running backs. However, last week it was quarterback Adrian Gonzalez, a junior, who passed for a touchdown to freshman Jason Triplett.
Mount Miguel is currently ninth in the first release of the CIF San Diego Section Division IV power rankings, so they can't afford a slip-up to a lower-rated team… MOUNT MIGUEL, 35-14.
PATRICK HENRY (2-2) at CHRISTIAN (2-3) — The Eastern League opener for both teams at Valley Stadium tonight figures to be closely rated.
Christian won the only previous meeting – a 34-26 win here back in 2015 – although CHS has played three times at Patrick Henry Stadium, just never against the other Patriots.
Patrick Henry is the higher-rated club coming into the contest, despite their placement in Division III, where they were fifth in the first release of the division's CIF Playoff Rankings.
Christian, meanwhile, has little margin for error in Division II, where it finds itself in a battle to qualify for the postseason heading into league play, sitting 12th in the 16-team field (top 12 qualify for the playoffs).
A win on the first night of league play will help Christian's playoff cause, as well as, the obvious of starting the league season with a victory.
Christian High is coming off a bye following a 45-16 loss to Point Loma and former CHS star Joel Allen, now the coach of the Pointers.
Jake Davila threw a 60-yard touchdown pass to Ryan De Los Reyes to tie the game at 7-all, as CHS trailed just 17-10 at halftime.
Hunter Provience, who recently committed to Montana State, caught his fourth TD of the season in the fourth quarter for CHS.
Christian has a senior-laden defense with Aaron Shebloski, Brady Bingham, Brady Dierkop, and Aiden Hypes.
Patrick Henry can be just as explosive as Christian with senior quarterback Malachi Ghitman, who has thrown 10 touchdown passes and averages just over 200 yards per game.
Senior receiver Hassan Nourdine has five of the TD receptions, while junior back Caprece Pressly has rushed for nearly 500 yards and five touchdowns.
Senior Kaleb Gray leads the Henry defense with three sacks this season.
Who will win the Battle of the Patriots? … PATRICK HENRY, 28-27.
SAN CLEMENTE (4-2) at STEELE CANYON (1-5) — The Cougars will host the state's 36th-rated team tonight as the Tritons face their fourth San Diego Section team of the season.
San Clemente already owns wins over quality county competition, defeating Oceanside (48-7), Torrey Pines (28-17), and La Costa Canyon (17-0) to open the season.
This will be the first-ever meeting between these two clubs.
The Cougars have lost five straight following a season-opening win over an out-of-section opponent in Heritage, of Menefee, 41-30.
Since then, Steele has faced three of the top four teams in the county and has been outscored 205-42 over the five consecutive defeats.
The Cougars haven't had a lower-scoring stretch in five games in a row in one season since the program's first season in 2002 when they closed the campaign putting up just 26 points on their final six games.
Still, Steele Canyon has a player you can't take your eyes off of in senior running back Major Givens, who also has committed to Montana State.
Givens has rushed for nearly 850 yards and eight touchdowns this season.
Cougar senior lineman Enzo D'augusta has emerged as one of the leading guys in the East County for getting after the quarterback with five sacks this season.
San Clemente wide receiver Thomas Hartanov is one that the Cougars can focus on defensively. He has seven touchdown receptions this season.
Senior Nolan Reid leads the Tritons with six quarterback sacks this season.
The Cougars take their bye next week before the three-week Grossmont Hills League stretch… SAN CLEMENTE, 35-14.
ESCONDIDO CHARTER (4-1) at MOUNTAIN EMPIRE (2-3) — The White Tigers are atop the San Diego CIF Division V power rankings while the RedHawks sit tenth.
These teams last met in 2013 with Mountain Empire claiming a 40-0 victory in the regular season then a 16-7 Division V playoff victory.
Escondido Charter has grown up the last two seasons and are on their hottest stretch of football in school history, having won 14 of its last 17 games.
The White Tigers won four straight to open the campaign but fell at Sante Fe Christian last Friday, 20-13. ECHS outscored its other four opponents, 199-35.
Escondido Charter senior quarterback Skylar MacMahon has 17 touchdown passes this season. Senior Aiden Volk has six of the scores, while two other receivers have four TDs.
The defense for ECHS has six interceptions.
Mountain Empire opens its first Pacific League schedule here and is likely three touchdown underdogs following a 38-0 loss to Army and Navy Academy in Carlsbad last Friday.
Freshman Isaac Gonzalez is starting to put up an eye-opening season at MEHS, having rushed for 467 yards and four touchdowns.
Senior Nathaniel Morgan leads the Empire defense with 41 solo tackles this season.
Mountain Empire looked to join the Pacific League but it figures to be a task in this first season… ESCONDIDO CHARTER, 34-8.
FOOTHILLS CHRISTIAN (5-1, 1-0 Ocean) at OCEAN VIEW CHRISTIAN (0-3, 0-0 Ocean) – The Knights' return to 8-man football has gone about as well as expected.
Foothills Christian has seemingly returned to form after a one-year return to the 11-man game last season.
The Knights are a championship contender in the 8-man division, ranked sixth in the first release of the year.
Last Friday, FCHS defeated San Diego Jewish Academy, 34-20, as senior Colin Perrott rushed for 128 yards. He was also the team's leading tackler with eight solo stops.
Five different Knights scored touchdowns in a rematch of the 2019 8-man title game, won by FCHS, 62-0.
Foothills Christian defeated the Patriots, 61-14, in a CIF playoff victory in 2019, which sent the Knights into that title game against SDJA.
So far this season, OVC has been outscored 165-20 in its three games… FOOTHILLS CHRISTIAN, 56-7.