Hang a 'Starr' on 100, Burner hits Century
Updated: September 30, 2022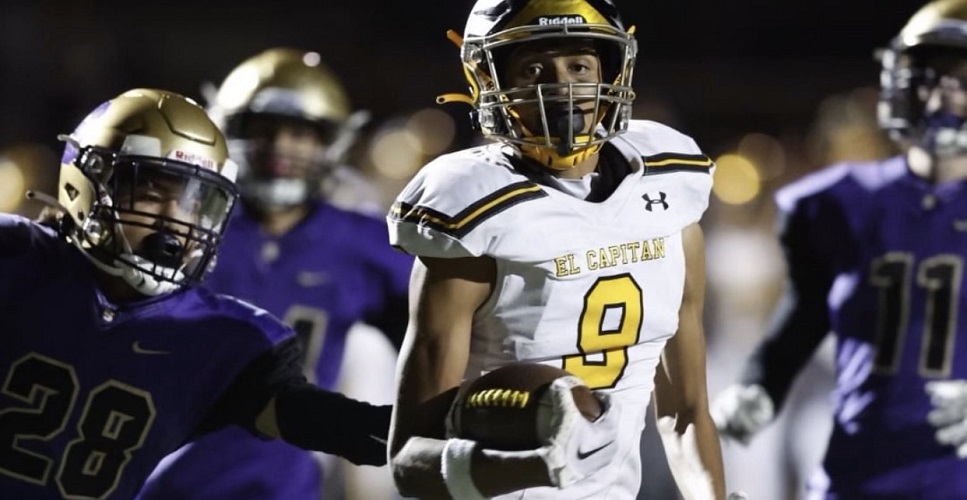 El Capitan's Chance LaChappa races for a touchdown, the game's only score on a 55-yard reception in a 7-0 win over Santana. / Vanilla Gorilla Photo
2022 EAST COUNTY PREP FOOTBALL
ECS staff report
SPRING VALLEY – Mount Miguel head football coach Troy Starr earned his 100th career victory as a coach in the Grossmont Conference on Friday (Sept. 30), as his Mount Miguel Matadors pasted the Monte Vista Monarchs, 41-6, in a Grossmont Valley League contest.
Starr earned his victories during stints at both Helix and Mount Miguel, becoming the sixth coach among Grossmont Union High School District schools to achieve the milestone. Among East County schools, Starr is the seventh to make the list.
Meanwhile, just over a half-hour later, El Capitan head coach Ron Burner also reached the 100-win club after his Sultans nipped host Santana, 7-0, at Santee Community Stadium.
Burner gained his 100 exclusively at one school.
With both at 100, Starr and Burner gain a tie with former Monte Vista coach Ed Carberry, who also won 100 games in the community college ranks before retiring prior to this current season.
Prior to coming to East County, Starr also captured 100-plus wins at Taft High in Woodland Hills.
MORE TO COME