Palomar tops Mesa in OT; Griffins stall
The play is ruled dead before Santa Ana fumbled late in the first half. / Vanilla Gorilla Photography
2022 COMMUNITY COLLEGE FOOTBALL
ECS staff  report
FLETCHER HILLS – Bad habits can be hard to break if you're a member of the Grossmont Griffins.
Once again, the opposition registered a touchdown on an interception runback in the second quarter. This time, it was a 55-yard runback by Santa Ana College safety  Gabriel Magana, as the Dons raced to a 21-0 lead to swamp the Griffins, 42-14, at Mashin-Roth Memorial Field.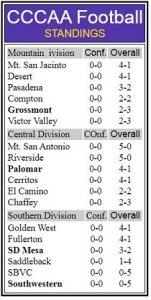 Grossmont head coach Mike Jordan had Trenton Giles, the former Grossmont Foothiller, start at quarterback following his solid comeback effort against Moorpark last weekend. However, he managed just 141 yards on 11-for-24 passing, as the Griffins' offense stumbled without their starting running back in the lineup, as well.
Meanwhile, the worn-out G-House defense, which has played brilliant football all season, was doomed after being stuck on the field all afternoon as the offense tried to sort itself out.
The few highlights were a pair of standout TD receptions by Dillon Gebase on Giles passes to the right corner of the end zone.
The first Gebase TD was a classic, one-handed grab while fully extended, making the pass undefendable for the Santa Ana defender. The second-quarter play covered  28 yards to cut the Dons' lead to 21-7.
After Santa Ana pushed the margin back to 21 for a 28-7 halftime lead, Giles again found Debase in stride as he reached up for the ball near the end line for a 32-yard connection.
For the defense, Aldo Olweny registered an interception.
However, the previously winless Dons (1-4) closed with a pair of fourth-quarter scores, ending a 5-game-losing streak, including the first four to open the season.
The Dons, the defending Metro Conference titlists, started the losing streak with a SoCal Bowl loss to Pasadena, the team which defeated the Griffins in last season's Mountain Conference tie-breaker to determine Santa Ana's opponent last season.
Following next week's bye, Grossmont opens conference play with consecutive road games at Mt. San Jacinto (Oct. 15) and Pasadena (Oct. 22).
---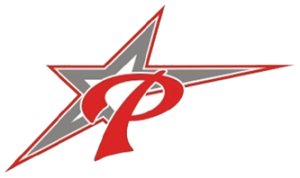 Palomar 18, San Diego Mesa 17 (OT)
KEARNY MESA – The nice 3-0 start by SanDiego Mesa is now a distant memory after the Olympians dropped their second straight ballgame on Saturday (Oct.), falling to county rival Palomar, 18-17 in overtime, at Merrill Douglas Stadium.
The Comets matched Mesa's touchdown in the overtime period, then shocked many by going for a do-or-die, 2-point conversion rather than extend the contest with a PAT kick.
However, the strategy worked when Palomar's short-yardage specialist  Dorian Richardson busted through the line for the game-winning points.
Tied at 10-all through regulation, Mesa scored on its overtime possession on a 1-yard run by Daniel Latanca 1 yd run. However, the Comets also reached the end zone when quarterback Thomas Fishburne found  Frankie Goodson on a pass from the Mesa-8.
During regulation play, Mesa scored off of its points in the thirdf period on long scoring marches.
A 12-play, 73-march resulted in a Mauricio Escudero 13 yd field goal. field goal. The kick was listed by Mesa as a 13-yarder (which is impossible), so it probably was from 23 yards out.
A few minutes later, quarterback Richard Colmenero III.  tossed an 8-yard TD pass to cap a 10-play, 80-yard march.
Palomar (4-1 overall) has a bye next week, then host state-ranked Riverside on Oct. 15, starting at 6 p.m. at Escondido High School Stadium.
San Diego Mesa (3-2) also gets a week off, then opens conference play in Mission Viejo against lowly Saddleback (1-4).
---
Chaffey 42, Southwestern 27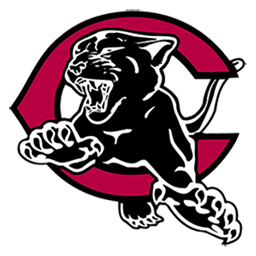 CHULA VISTA – The Chaffey College Panthers can read the scoreboard. Ever since falling to Southwestern, 26-24, on a 51-yard field goal in the final two minutes last season,  the Jaguars have won just one of their 10 ensuing games.
Indeed, Chaffey knows they messed up big time, so they did something about it in Saturday's (Oct. 1) return game in a home-and-home series.
The Panthers rattled off 28 straight points to take a commanding lead, whipping winless Southwestern, 42-27, at Chet DeVore Stadium. The Jags (0-5 overall) have now dropped seven straight, with just a single victory in their last 11 starts.
A balanced Chaffey attack saw quarterback Nicholas Poulos pass for 237 yards. But in the red zone, the Panthers' ground attack proved too tough to stop.
Running back Nicholas Poulos rushed 13 times for 127 yards and a pair of touchdowns, while backfield mate Tayvonne Miller carried 10 times for 87 yards and three scores — two coming near the goal line, then a 51-yard burst to put the ballgame away.
The pair of Panthers backs combined to average more than 9.7 yards per carry as the O-line dominated the Southwestern defense.
Forced to play catchup all contest, Hags quarterback Jimmy Inman finished with 308 yards through the air with four TDs, including a 74-yard strike to Kahanu Davis. However, trailing by double figures made the task of playing catchup almost impossible, as Chaffey did not lose yards on any play and did not commit a turnover.
The lone Jags highlight was strong safety Michael Harrington (Mater Dei Catholic), the leading tackler with 11 stops.
Southwestern has a bye next week, then travel to open conference play against defending champion Golden West on Saturday, Oct. 15. The contest will be played at Orange Coast Coast's Lebard Stadium in Costa Mesa, slated for a noon start.
– Compiled by Nick Pellegrino