East County Fearless Forecaster – Week 8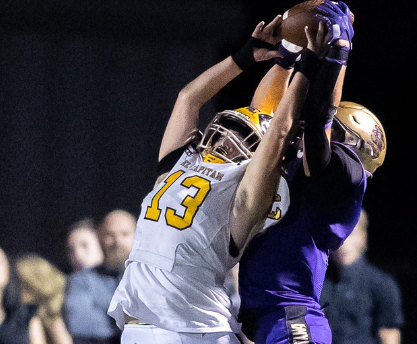 El Capitan's Dominic Denha goes up for an interception on Friday. / Vanilla Gorilla
2022 EAST COUNTY PREP FOOTBALL
EastCountySports.com staff report
Fri., Oct. 7
No. 4 Helix (5-1) at Mission Viejo (5-1) — The powerful Diablos already defeated Servite, 42-23, in Week 2 this season, then open league play next week with San Clemente, which pounded Steele Canyon last weekend, 35-0.
Meanwhile, Helix defeated Servite 38-31 back on Sept. 23 in La Mesa. That was the Highlanders' previous game before a bye last week.
Helix lost last year's matchup with Mission Viejo, 38-21, also in La Mesa.
In summary, the Highlanders are a pretty big underdog in this one.
Despite their successful season which is just two points and one missed referee call short of an undefeated record, the Scotties figure to be up against it against the Diablos.
Mission Viejo is the state's fifth-ranked team coming into this one. The Highlanders are ranked a modest 35th.
Diablo senior quarterback Kadin Semonza has 14 touchdown passes and six rushing touchdowns this season.
Mission Viejo's defense has 31 sacks in six games.
Helix went back to its roots and the running game went wild against Servite, racking up 375 yards on the ground and five touchdowns.
Junior Kevin Allen III has to start getting some respect for his 227-yard, 3-touchdown performance. He now has 581 yards this season.
Allen and fellow junior back Jason Sisneros have combined for 14 rushing touchdowns this season.
The Highlanders have one of the best defenses in San Diego County led by junior Kairo Kahananui. Jackson Daniels had four interceptions in the Highlander secondary.
Helix is having a great season and is in sure contention for an Open Division playoff spot but believe it or not, they could just be too young to contend in this spot… MISSION VIEJO, 42-21.
El Cajon Valley (3-4, 2-1 GVL) at West Hills (4-2, 2-0 GVL) — While not necessarily a close game on paper, the matchup for the Braves and the Wolf Pack will be a deciding factor in the Grossmont Valley League championship.
The Braves would remain alive for a possible share of the title if they could pull off the upset-of-upsets on Friday night.
West Hills has won six straight ever since a 24-all tie in 2009.
The Wolf Pack's non-losing streak is 10 since the Braves' 42-21 win in 2005 (at Wolf Pack Stadium) — which broke an 8-game losing streak against the Pack for ECVHS, thus, West Hills is 17-1-1 in the last 19 meetings.
Overall, it's 24-2-1 (ECV won 34-21 in 1996, also at West Hills), in favor of the Pack.
While West Hills is a solid favorite in this one, those numbers aren't fair to this Braves club coming into west Santee on Friday.
This year's Braves club is probably the best team the program has fielded in 17 years.
El Cajon Valley has already scored two Grossmont League wins for the first time since 2005 and also recorded its largest margin of victory in a league game, as well as, its largest margin of victory in a shutout.
It's fair at this point to say that this year's Wolf Pack doesn't appear quite as good as last year's league-champion outfit.
However, West Hills is plenty good to once again compete to defend its Grossmont Valley League title, which will be decided on the final night of the season in Lakeside.
That march starts with a virtual elimination of the Braves from serious title contention.
Collin Dill is the man that makes the Pack go with nearly 900 yards of total offense.
The defense features East County sack master Jack Tracy, who has five wrap-ups of opposing signal callers this season.
West Hills' defense has been the backbone of its success over the last few seasons and they will be tasked with slowing a Braves offense that features possibly the two best skill players on the field in running back/linebacker Kal-el Gordon and receiver/defensive back Paris Dixon.
Gordon has over 600 yards rushing and 10 touchdowns this season.
Dixon has five touchdown receptions from emerging junior quarterback Darick Dubose.
El Cajon Valley has its own strong pass rusher in senior Yasil Blair, who has 3 1/2 sacks.
West Hills doesn't need the home-field advantage to carry this one but it might make the game appear more one-sided than it likely was… WEST HILLS, 35-14.
Mount Miguel (3-4, 1-2 GVL) at El Capitan (4-2, 2-0 GVL) — El Capitan managed to score just one touchdown in last week's crucial 7-0 win over host Santana.
The Mount Miguel Matadors can score one touchdown in a matter of seconds.
That doesn't mean the visitors are expected to come away with a Grossmont Valley League upset of the host Vaqueros on Friday night.
After all, it was the Vaqueros that needed just one quick strike from quarterback Brandt Barker to wide receiver Chance LaChappa to decide the victory for El Capitan last week, which was head coach Ron Burner's 100th victory in charge of the program.
Ironically, Mount Miguel head coach Troy Starr was credited with his 100th local victory in last week's 41-6 mashing of Monte Vista.
Starr, a former University of Florida assistant under Urban Meyer who has racked up 239 victories over his prep head coaching career in three stops, was seemingly unimpressed with his latest accomplishment in a post-game television interview.
"I don't measure myself against other coaches by wins," Starr said.
The series is tied 16-16-1 in the last 33 meetings, including Mount Miguel's 7-5-1 edge this century. Mount Miguel leads the all-time series, 32-21-1
The Vaqueros' sophomore connection of Barker and LaChappa will likely have plenty of chances to connect for touchdowns moving forward.
Meanwhile, the Matadors' Matthew Barton can give this team a realistic shot at an upset considering his six-touchdown passing performance last week against the Monarchs.
Senior Chris Akridge caught four of the scoring strikes, while junior Jeremiah Castillo had the other two TD catches.
Barton's accomplishment was practically overlooked, including by the quarterback himself.
"If we are going to get where we want to go, then I need to play a lot better," Barton said unassumingly.
El Cap will likely have the edge in the deciding trenches which will prove the difference… EL CAPITAN, 28-21.
Santana (2-5, 2-1 GVL) at Monte Vista (2-5, 0-2 GVL) — Santana is just a touchdown away from being 3-0 in the Grossmont Valley League.
That touchdown, however, was the difference maker in last week's 7-0 Homecoming loss to El Capitan.
The Sultans probably feel like they should've won last week's defensive battle.
Santana fumbled at the 1-yard line while nearly going in for a touchdown in the first quarter. Then the Vaqueros turned away a two-minute drill drive that got as close as the Vaquero 7 in the final minute of the game.
Monte Vista will not be able to stand in the way of Santana this week.
Both teams may be 2-5, but the Sultans are likely better than that record suggests.
The Sultans have some standout defenders in seniors Logan Ellis and Landen Bailey.
Offensively, Nick Leger is best-suited as the team's primary wide receiver because of his ability and the big target he provides. However, the versatile star continues to thrill as he tries to rescue the team as the quarterback late in games.
Monte Vista has lost five straight, scoring just one touchdown in each of its last three games, which includes league losses to El Cajon Valley and Monte Vista.
The score last week came on a connection from Diego Peguero to Jason Triplett for a 20-yard pass play.
Monte Vista once won eight straight in the series (1991-2002), but since then it's tied 6-6 in the last 12 meetings. All-time MVHS leads, 27-16-3.
Santana is in no danger of being upset here despite being on the road… SANTANA, 34-7.
Mountain Empire (2-4, 0-1 Pacific) at Francis Parker (2-4, 0-0 Pacific) — A new Pacific League matchup for the RedHawks but it's not the first time Mountain Empire has faced the Lancers.
Parker was walloped by Bishop's, 48-0, last Saturday.
The RedHawks dropped their first Pacific League since 2010, falling to a high-caliber Escondido Charter club, 41-0, last Friday.
The last meeting came back in 1999 when Parker won, 42-0. The RedHawks won a 1998 season-opener in Pine Valley, 43-38.
Parker is a substantial favorite in this one… PARKER, 42-14.
Grossmont (0-6) at No.6 Poway (6-0) — The series stands at 2-all as Grossmont swept a home-and-home in 2014 and 2015, then Poway returned the favor in 2018 and 2021 (20-14).
Poway will have assumed the all-time lead when this one is done.
The sixth-ranked Titans feature one of the county's top running backs in senior Connor Rath, who rushed for 306 yards and four touchdowns last week against Del Norte.
Rath has nearly 1,110 yards and 14 touchdowns this season.
The Titans already beat Grossmont Hills League contender Granite Hills, 31-19, in the season opener in Poway… POWAY, 49-7.