Patriots currently no match for Eagles
Christian High senior Hunter Provience attempts a field goal on Thursday.
2022 EAST COUNTY PREP FOOTBALL
GRANITE HILLS 41, CHRISTIAN 3
ECS staff report
EL CAJON — One could roll a ball from Christian High School and see it arrive at nearby Granite Hills High in just a minute or two.
Indeed, these neighborhood schools are located in close proximity, but there is a reason they have never met in football since the Patriots — which played a vast majority of their home games at Valley Stadium — have never met the Eagles on the football field.
Size, both in enrollment figures and the physical advantage, is historically held by Granite Hills.
Until the recent remodeling of Christian High at the Shadow Mountain Community Church property, enrollment has been limited to a few hundred students. Meanwhile, Granite Hills traditionally is listed at more than 2,200 students.
The cases proved obvious within moments of the schools' first encounter on Thursday (Oct. 6).
In a contest initially delayed 90 minutes by lightning, then finished quickly when a running clock was invoked early in the second quarter — not the second half — the 7th-ranked Eagles waltzed to a 41-3 decision in a non-league affair.
A sequence of three plays early in the second quarter left many on the Christian side wondering why this contest was ever scheduled.
The current fact of the matter is, however, that these two teams are in the same classification when it comes to the section's division alignment, competing in Division II.
With Granite Hills already leading 21-0 through the first period, Eagles standout two-way player Joaquin Thomas Jr. hauled in a swing pass along the Eagles sideline from quarterback Nico Tomasello, rambling around a trio of Christian tacklers to reach the corner of the end zone for the touchdown with 10:10 left in the first half.
Granite Hills had 200 yards in the first quarter to Christian's 34.
On the ensuing kickoff, Patriots kickoff returner Ryan De Los Reyes was blasted by a hard, yet clean, tackle by junior Rowan Hatnes.
Although the return man got back up his feet, he wobbled towards the Christian sideline before being eased to the ground by trainers just off the playing surface. The hit on his right side sent his head violently sideways and streaming video cameras showed the player was being treated for a probable concussion.
The contest was delayed for more than 10 minutes while medical officials, and later paramedics, treated the player.
When play resumed, under a running clock with 10:10 still remaining in the second quarter, a pass was intercepted by Easton Peterson for a 58-yard score and a 35-0 cushion.
#7 Granite Hills 38
Christian 0
Halftime pic.twitter.com/XXRPZkDTpS

— San Diego Football (@sdfootball) October 7, 2022
Granite Hills later added a 32-yard field goal by Robert Petrich to end the half with a 38-0 lead.
Petrich added a 36-yard field goal early in the fourth quarter, then Christian avoided the shutout with its own field goal — 32 yards by co-captain Hunter Provience — against the Eagles reserves with 1:11 left, as the remaining time expired before another kickoff could be executed.
Running back Zak Darling had a 22-yard TD run on the first series of the game with 10:17 left in the first quarter. Quarterback Parlan Sanders had 30 yards passing on the 80-yard drive.
Max Turner had a 3-yard touchdown run for the Eagles on their second drive of the game. Petrich was good on the PAT with 3:12 left in the first quarter. Turner rushed three consecutive times for 31 yards on the drive.
Sanders had a 54-yard keeper to make it 21-0 following Petrich's PAT with 34.8 left in the first quarter.
#7 Granite Hills 21
Christian 0
End of 1st Quarter pic.twitter.com/u3CeHn9lhh

— San Diego Football (@sdfootball) October 7, 2022
Granite Hills moves to 5-2 overall.
The Eagles' current standing in the CIF power ratings seems amiss in the formula used by the section.
Granite Hills, which was seventh in this week's San Diego media poll and eighth in the major computer rating service, is just sixth in the Division II playoff picture.
The Eagles' current power number by the section's formula basically would place them 19th if all the divisions were combined (the rating formula is used section-wide and not specific by division).
Christian slips to 3-4, yet shares first place in the Eastern League at 1-0 after downing Patrick Henry last week.
Next week, both teams are home at Valley Stadium. The Eagles open Grossmont Hills League action against Grossmont on Friday, while Christian will wait until Saturday to entertain Mira Mesa.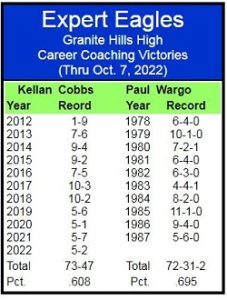 Note: When Granite Hills won its game against El Centro-Central two weeks ago, the school announced the win was No. 73 for head coach Kellan Cobbs. According to records maintained by East County Sports, Partlet on Sports, and a search of the San Diego Union-Tribune archives, this victory was No. 73, allowing Cobbs to pass Paul Wargo (72 wins, 1978-87) to become the school's all-time leader in football coaching victories.