Vaqueros, Knights take CIF openers
Foothills Christian's Daisy Tofili with the slammer in the Knights' sweep of Steele Canyon.
2022 EAST COUNTY GIRLS VOLLEYBALL
CIF-SAN DIEGO SECTION CHAMPIONSHIPS
ECS staff report
Division I
El Capitan df. Rancho Bernardo, 3-1 (24-26, 25-23, 25-22, 25-18)
LAKESIDE – After splitting the first two sets, sixth-seeded El Capitan was on the verge of falling into a massive hole against visiting Rancho Bernardo in Tuesday's (Oct. 25) Round-of-16 game of the CIF San Diego Section volleyball championships, played at Foster Gymnasium.
However, it wasn't the Vaq Attack which dug out of a 22-20 hole in the third set, it was the team's blocking which triggered a 16-6 scoring run. Not only did the hosts tally the final five points of the third set, the Vaqueros raced to an 11-6 lead in the fourth set and were never headed to eliminate the Broncos.
Madison Triplett paced the offense with 22 kills, but blocks in the late going by Savannah Simpson, Alyssa DeYoung and Hannah McGrath were instrumental to seize control of the match.
El Capitan (27-10 overall) next makes an easy trip up State Route 67 to face third-seeded Poway in Friday's semifinals, starting at 7 p.m. The Titans blitzed Scripps Ranch in three sets.
Elsewhere in Division I, the top-seeded Francis Parker downed Valhalla in straight sets,while No. 2 seed Santa Fe Christian did the same to Patrick Henry,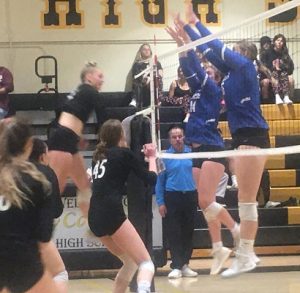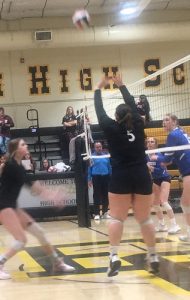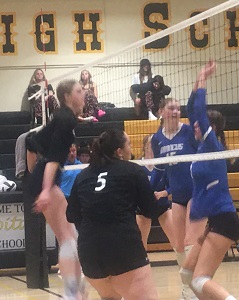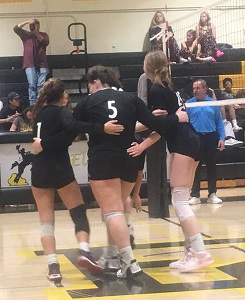 ---
Division III
 Foothills Christian df. Steele Canyon, 3-0 (25-12, 25-18,25)
SANTEE – The 1-2 spiking combination of Juliana Van Ommering (24 kills) and Daisy Tofili (8) were too much for short-handed Steele Canyon, as second-seeded Foothills Christian skipped past the Cougars in straight sets in CIFSDS Division III first-round action held at West Hills High.
Van Ommering posted 10 of her kills in the opening set, then the Knights cruised home.
The Foothills Christian offense took advantage of the absence of Cougars middle blocker Deanna Guerrero (ankle), who is considered one of East County's top basketball players, and could be ranked near the top as the top female heavyweight wrestler in the San Diego Section.
The Knights (22-5 overall), champions of the Pacific League, had a chance of meeting West Hills on its own court. However, the Wolf Pack fell at Mission Bay in three. Thus,the Knights and Jaguars will meet this Friday at 7 p.m.
Elsewhere, third-seeded Helix swept Valley Center, needing a victory to gain an all-East County semifinal with Foothills Christian. Meanwhile, Santana, which opened league play with a first-set win over West Hills before dropping 30 straight sets, gave an extremely strong effort in splitting sets at Mira Mesa before falling to the Marauders in four.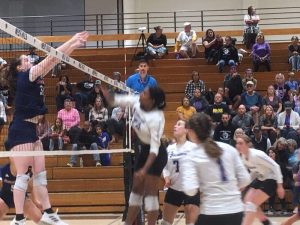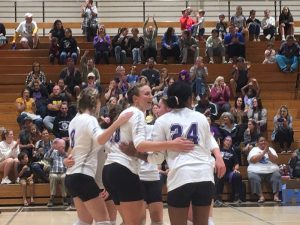 MORE PHOTOS TO COME
439 total views, 1 views today