Triple Crown Night for Braves Athletics
Updated: December 9, 2022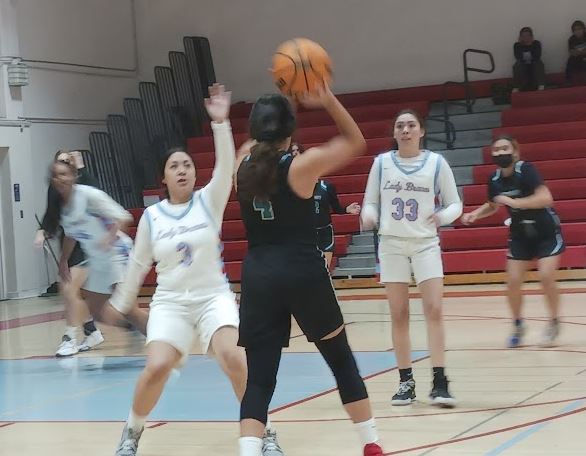 2022-23 EAST COUNTY PREP SPORTS: GIRLS BASKETBALL, BOYS BASKETBALL, BOYS SOCCER
ECS staff report
EL CAJON – On the heels of a rare league championship by the El Cajon Valley High girls volleyball team, other Braves sports teams are also enjoying turnarounds as possible contenders in the Grossmont Valley League.
No fewer than three ECVHS ballclubs found the victory column on Thursday (Dec. 8), featuring triumphs in girls and boys basketball, plus boys soccer.
Girls Basketball
ECVHS 64, Bayfront Charter 18
EL CAJON – El Cajon Valley utilized a full-court press throughout the first half, mounting a 26-point advantage to sink the previously undefeated Bayfront Charter Sharks of Chula Vista.
Senior guard Aniah Deloatch poured in a game-best 21 points, including a series of long 3-point bombs, while .Meanwhile, the inside was controlled by senior forward Ruth Taulanga, who tallied 16 points, many on put-back buckets.
Meanwhile Asia Marie Dixon also reached double figures with 12 points. All three ECVHS scorers are seniors.
The defense also forced a series of turnovers, but when the Sharks did move near the basket, Braves sophomore center  Asia Marie Dixon was there to block seven shots. On the other end of the court, forward asmine Nunez (Sr) was credited with 10 rebounds.
Delopatch also fueled the offense with 7 assists.
El Cajon Valley (5-2) hopes to add to its 3-game winning streak in a quick turnaround contests, traveling to face Morse on Friday at  7 p.m.
Bayfront Charter (4-1) was forced to play with just six oayers due to injuries.
The Sharks, many of whom also play softball, said that head softball coach Mary Grabowski, the 2008 East County Player of the Year out of Christian High, (and a rwo-time All-West COast Conference performer for USD) will not be on the diamond this season. After recently getting married,  the young couple is expecting their first child.
Boys Basketball
ECVHS 80, Mountain Empire 24
CAMPO – Owning just a single triumph all season(against Will C. Crawford High), El Cajon Valley snapped a mild 2-game losing streak by swamping the host Mountain Empire RedHawks on Thursday (Dec. 8).
Similar to the girls game, ECVHS raced to a commanding advantage by the halftime break, then played the reserves over the balance of play.
A young roster may make things interesting in GVL play for the next few seasons.
Junior Jahsir Bosley (Jr) paced the Braves with a game-best 22 points, while sophomore Jaylen Dorsey was next with 12 points.
Meanwhile,  a trio of Braves — Kal-el Gordon (Sr), Daniel Fuerte and Daniel Ahossou (all seniors) — just missed connecting in double figures, each adding 9 points.
The Braves (2-4 overall) will continue their climb to .500 with a rare Monday (Dec. 12) game next week, hosting Castle Park (2-1) at 6 p.m.
Boys Soccer
ECVHS 2, Health Sciences 1
EL CAJON – The El Cajon Valley Braves captured their third contest in their last four outing, moving to the .500 plateau after stopping the Surgeons of Health Sciences Aademy.
In the first half, just as the clock was stopped with two minutes to play, a lead pass allowed the Braves (No. 12) to score on a mini-breakaway to open the scoring. The ball was tucked into the low, left-ahead corner.
Health Sciences pulled the goa lback, but the Braves overcame the cold conditions at Priest Field at ECVHS Stadium with another late tally in the second half (by No. 12) for the game-winner.
The ECVHS roster is not posted, or we;'d give you their names.
El Cajon Valley, now 3-3-1 overall (the Braves won just five times last season), will play a second contest in mas many days on Friday, hosting Foothills Christian (2-2) at 5:15 p.m.
Meanwhile, there is talk that Health Sciences might elect to change its alrady unique nickname to, among possibilities, the Mashers." This could please parents who remember the populat 1980s CBS television drama M*A*S*H, but is also contemporary to more powerful nickname to git toay's standards.
Compiled by Nick Pellegrino