Christmas miracle for Griffins' Caires
Updated: December 25, 2022
2922 EAST COUNTY LOCAL COVERAGE
ECS staff report
FLETCHER HILLS –  Although this story started months ago, the Christmas season is especially a time to remember and enjoy for Grossmont College women's basketball head coach Karen Caires.
At one point, Caires was afraid there wouldn't be a holiday season to embrace — in a positive fashion — for for the career coach or her family .
The reason: Caires was a victim of breast cancer.
One season away from her beloved Griffins basketball team wasn't long enough to beat the disease — public ally, Caires was on sabbatical —  then a year under wraps due to COIVD-19 didn't help matters.
Fortunately, Caires seems to have come out on top from the disease. Although, she won't be officially considered cancer-free for 10 years, current signs indicate a full recovery.
The following is her personal account from a press release by Grossmont College discussing her situation. It was posted during the recent Thanksgiving holiday, yet can be considered a timeless tale on survival.
---
Griffins Thankful for
Coach's Full Return
From GCCCD media relations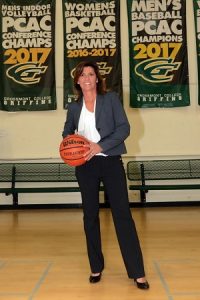 EL CAJON (Posted Nov. 22, 2022) – Thanksgiving is a time to be thankful for things in your life. There might not be anyone in the Grossmont College athletic department that might be more thankful than Women's basketball coach Karen Caires. Her team is certainly thankful for their coach to be back to normal. 
Flashback to March of 2021. Coach Caires goes in for a normal checkup with her doctor. Only there is a small problem, her mammogram shows a small lump in her breast. 
Caires was up front with her team and told the team, and her family, what was going on. 
"When I found out I was super scared, overall just utterly shocked," was how Katie Caires recalled her initial reaction. Katie is Coach's eldest daughter who currently attends UC San Diego. "Mom is the most active and healthy person I know. So, I never would have thought something like this could happen. However, I also knew that if anyone could beat it, it would be her." 
"We were obviously scared," Paula Magtoto, who had just finished her senior year at Sweetwater High School and was a recruit coming in for the 2021-22 season, remembered. "It came out of nowhere and we were all scared not knowing what was going to happen." 
Caires and her Doctors did exactly what Caires does during the season, created a game plan on how to attack the cancer, that they caught early. 
The game plan was full of the tendencies that a Caires led team has, tenacity and grit. With an opponent like Cancer, tenacity is something that needs to be in there. So, the comprehensive removal of the lump was what the Doctors and Caires agreed on. 
In May of 2021, just after finals for the Spring 2021 semester, was when the lump would come out. Everything went well with that surgery; and the recovery began. "I tried to do the reconstruction surgery at the same time," Caires recollected. "Some of the reconstruction got infected." At the end of July, right before school started for the 2021-22 academic year, she had to go in for emergency surgery to get rid of the infection. 
When the 2021-22 year began, Karen was recovering still from her second major surgery in less than six months. Her strength was not anywhere near what it usually is, and as a result her energy and enthusiasm was not even close to what it normally is. She was having trouble just doing simple chest passes and showing intensity on plays in drills during practice. 
As the season progressed, her strength and stamina returned slowly. Looking back on where she was a year ago, even Caires is surprised at where she was. "I don't think until this year, I realized how much energy I didn't have." 
"KC" received well wishes and support from throughout the CCCAA Women's Basketball sorority. Coaches Marcia Foster (Fullerton), Flo Luppani (Santa Ana), Leigh Marshall (Palomar), Alicia Berber (Riverside) just to name a few coaches who all came to her aid in one form or another. Those that really stepped up amongst others were her church community and the Grossmont College community. 
In February of this year, current Athletic Director Jason Allen joined the department and started interacting with Coach on a more regular basis. "I just reminded her how much of a fighter she is," Allen said. "She encourages the young women, who she coaches, to be great in their academics and on the court. I just reminded her of that strength. When you are an instructor, coach, pastor or anyone that leads people, it is so easy to pour strength into other people, but you forget to pour it back into yourself." 
When asked about what the team was feeling, when coach was able to announce just before this academic year that she was Cancer free and was able to do what everyone that fights Cancer hopes to do, ring the bell. "Everyone was really happy," Magtoto commented. 
"You know that you're always cared for and thought of. But when something like this happens people really rise to the occasion," Coach Caires shared. "I'm just thankful to be healthy and back on the court this year at full strength." 
"I am so proud of Mom for getting through it." Katie Caires so poignantly summed up in her words what everyone in the coaching community and athletics department was thinking, when Karen announced a couple of months ago that she was symptom free and was able to ring the bell. 
Everyone in the department is thankful for your health and that you are back on the court Coach.