Boys Hoops: Pack draw on defense
West Hills' Theron Humphries. / Vic Marano.
UPDATED
2022-23 EAST COUNTY PREP BOYS BASKETBALL
ECS staff report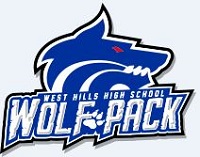 SANTEE — "I know it's a cliche, but we're really trying to only look ahead to our next game," noted West Hills head basketball coach Tim Barry. "But that can be hard sometimes."
Especially when you're playing your crosstown rivals.
While the final result wasn't a mystery, how the Wolf Pack got there is what ultimately mattered, claiming a 51-44 triumph over host Santana in a contest that meant much more to the Sultans in their upset bid to end their opponent's school-record winning streak.
Still, West Hills (19-2 overall), the leaders of the Grossmont Valley League at 4-0, will gladly accept its fast-rising climb in the CIF-San Diego Section rankings after collecting a 14th consecutive win Friday (Jan. 20).
In front of a packed house at Santana, both sides went at each other hard in the first quarter, knotted at 16-all.
But in the second period, the Wolf Pack would eventually take the lead even though the Sultans wouldn't go away trailiing only 30-27 at the break.
Things in the second half would get very interesting as West Hills, which shot 40 percent in the first half, suddenly couldn't buy a basket.
However, the Sultans also matched the cold streak with just four baskets of their own to trail by five, 41-36.
In the decisive fourth quarter. Caden Aikens led the late charge, scoring 8 of his team-leading 11 points down the stretch.
Despite trailing, the Sultans were feeling good as many had projected this contest to not be close — the Pack are a Division III squad while the Sultans are situated in Division V.
"It was a below-average shooting night for us and we overcame that," noted Barry. "Despite this, the two key plays for us both occurred in the fourth quarter when Theron Humphries penetrated against their zone for a layup as did Zeid Salem."
Although the opportunity for an upset was on the table, both sides closed without scoring for nearly two minutes, including shots from the foul line.
For West Hills, Luke Gibson posted 10 points, while Salem and Loni Mesina both added 9 points.
Santana (11-10, 1-2 GVL) received a game-best 19 points from junior forward Jeffrey Van Oostende, including 11 in the first half to keep the Sultans in contention
Da'Mari Taylor added 9 points, but was also limited in the second half as the Pack defense foudn the Santana scorers and shut them down.
Steele Canyon 64, El Cajon Valley 46
EL CAJON — In a repeat of the girls gsmr to open this Grossmont Valley League doubleheader, Steele Canyon led from the opening tip, but needed severl clutch baskets in the second half to pull away from the host Braves on Friday (Jan. 20).
A fast start saw the Cougars bound to a 17-4 lead, as the Braves never attempted a 2-point shot in the opening quarter, finishing with 10 on a trio of triples and a free throw.
The difference was the half-court trap displayed by Steele Canyon, plus a decisive rebounding advantage, as ECVHS only grabbed three offensive rebounds all contest.
But when Steele Canyon needed some long-distance shots of its own, they received several late bombs including a25-footer from 5-foot-"nothing" freshman Tyler Starr which brought the Cougars bench to their feet.
Leading Steele Canyon (9-12 overall, 3-1 GVL) on both ends of the court was senior guard Alex Jenkins.
"We just have to calm down because we were playing too fast after we took the early ead," said Jenkins. :But we felt like their guards couldn't handle the pressure, so used the trap to force turnovers."
Now owning second place, Jenkins believes they are capable of defeating front-running West Hills.
"We need to keep playing defense like we did tonight, but be a lot more disciplined," Jenkins added. "It's going to be a fight."
For ECVHS (5-13, 0-4 GVL), Jahsir Bosley led the way with 15 points, while T.J. Rivera added 13.
Valhalla 86, Granite Hills 60
RANCHO SAN DIEGO —  Zaki Monqad , the leading scorer in the Grossmont Hills League, poured home a game-best 29 points, leading host Valhalla over neighborhood rival Granite Hills, 86-60, Friday (Jan. 20). The decision snapped a deadlock for second place in the GHL  between the ballclubs.
Monqad, a senior, finished with a triple-double. Along with his scoring, he collected 12 rebounds and a season-best 10 assists to dominate the Eagles. His previous best in assists was 7, coming agains SD-Southwest and Foothills Christian.
Monqad, who ia averaging 2438 points per game, increased his lead to more than four full points over second-sanding Lawond Zangana (19.9) of Granite Hills (his stats were not reported).
Along with Monqad, three other Norsemen scored in double figures. Senior Cody Heins finished with 15 points, while Tony Famoyin and Josiah Arroyo (Jr) each finished with 14.
For Valhalla (13-9 overall, 2-1 GHL), the 86 points was two shy of the team's season-high of 88, set against El Capitan on Dec. 19.
Granite Hills (9-9, 1-2 GHL), which has been improving on defense, suddenly allowed a season-low in points. The low was 81 by University City in the second gameo f the season.
Other Scores
Mount Miguel 73, El Capitan 69
Ramona 71, Oceanside 41
Monte Vista 60, Grossmont 51
Helix 89, Mabel O'Farrell Charter 37
Hoover at Patrick Henry, no report
Mountain Empire at Preuss UCSD, no report
421 total views, 2 views today