Hawks 're-branded' by Jessup basketball
Updated: January 22, 2023
2022-23 SAN DIEGO CHRISTIAN COLLEGE BASKETBALL / MEN'S & WOMEN'S
ECS staff report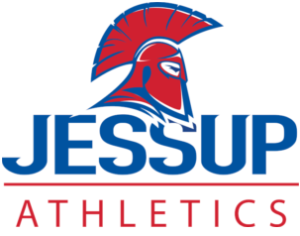 ROCKLIN – The last time San Diego Christina College traveled to Northern California, one of its Golden State Athletic Conference opponents wass William Jessup University.
No more.
The re-branded Warriors of "Jessup University" remain strong in basketball, sweeping a men's-women's doubleheader from the visiting Hawks on Saturday (Jan. 21)
Men
Jessup 92, San Diego Christian College 78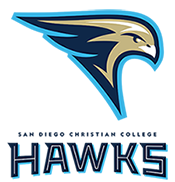 Coming out looking tired following an overtime setbackon Thursday, Jessup University gained its second win inthe second half to rally pastSan Diego Christian College, 92-68,on Saturday (Jan. 21).
The second-half effort coincided to the Hawks drop in enerrgy following their Thursday upset victory over 24th-ranked Menlo. Thus, the Warriors' 59-30 advantage in the second half was too much to stop.
SDCC mounted an early lead against a slow-looking Jessup defensive unit, which moved into quick foul trouble, allowing the Hawks to shoot 8-for-8 from the foul line.
"San Diego Christian was well prepared," said Jessup head coach Lance Von Vogt. "(Hawks) coach (Dwayne) Cosby did a great job getting his guys ready to go"
"They've got some fantastic players. They're tough. They're physical. They compete. And you know, I thought that they had a terrific game plan which tested us, and we had to adapt in the game, and I thought our guys responded well."
The rally saw Jessup's Cashemin Williams registered 14 of his 21 points in the second half.
San Diego Christian (4-8 overall, 3-8 GSAC) received 31 points from from off the bench by Greg Chew, who joined several others by not starting. In addition, resevre Cameron Dashiell collected a season-best 18 points.
Jessupis now 12-8 overall (7-4 GSAC).
Women
Jessup 70, San Diego Christian College 59
ROCKLIN – Unlike the men's game, it was Jessup which commanded the first half, but when San Diego Christian rallied strong in the third quarter, the host Warriors were able to stave the rally to claim a 70-59 GSAC triumph at Warriors Arena.
Less than 48 hours from Natalie Morales' game-winning shot against Hope International, the Warriors were back to work looking to string together back-to-back wins. Needing wins to stay alive in the GSAC Tournament hunt, Jessup took down San Diego Christian 70-59 to improve to 12-8.
For the Hawks (5-15, 1-10 GSAC), four starters scored in double figures, including Brianna Humphries (19 points), Mamaeia Makoni (16),  Jamee Joseph(12)and Elaina Martinez(11).
However, due to a rash of injjuoes limiting the roster to 8 healthy bodies the bench contributed just a singlefree throw.