CIF B.Hoops: Escape From The Valley
Updated: February 16, 2023
2022-23 EAST COUNTY PREP OYS BASKETBALL
CIF-SAN DIEGO SECTION CHAMPIONSHIPS
From staff and wire reports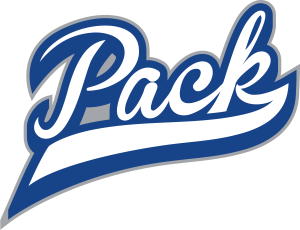 EL CENTRO – An unexpected trip the the Imperial Valley turned out to be an advantage for the West Hills Wolf Pack. Despite losing one seeding position and forced to play a tougher opponent – and on the road, since El Centro-Central was a league titlist — the Pack easily skipped past the hosts, 70-53, in Wednesday's (Feb. 15) Division III first round of the CIF-San Diego Section boys basketball championships.
The contest was delayed 24 hours due to high winds and possible snow and slush on Interstate 8 through the back country and the Cuyamaca Mountains of San Diego County on Tuesday. Plus, the make-up date needed to be held two hours earlier than normal, as Central already had a playoff game for the school's girls program already on the agenda, so the players needed to be released from school sooner than administrators would normally prefer.
Still, all the trouble proved to make things much easier.
While the Pack collected an easy triumph,their original opponent, Escondido Charter, nearly pulled off a stunning upset in the division.Instead of meeting West Hills, the White Tigers came within seconds of topping nearby Rancho Buena Vista of Vista, 66-65.
The Longhorns (19-10), which were bumped up to the No. 4 seed after the original postseason brackets were announced, will now host No. 5 West Hills (24-4) on Friday at 7 p.m.
Game stuff
West Hills shot 53 percent from the floor to quickly deflate Central (18-10), the champions of the Imperial Valley League — that's why the Spartans received home-game priority.
Balanced scoring was also a key,as Zeid Salem paced the Pack with 21 points while Vince Hillman added 20 points. The pair combined to shoot 7-for-13 from beyond the arc.
The ballclubs were tied at 9-all through the opening period, but the Pack heated it up the rest of the way, finally tallying 26 fourth-period points to pull away.
Salem and Luke Gibson also grabbed a team-best 7 rebounds, while Gibson led the defense with three steals.
Gibson, a senior forward, also contributed 10 points on 5-for-6 shooting from the floor. Meanwhile, the play-makers were Theron Humphries (5 assists) and Caden Akins (4 assists).
Said Wolf Pack head coach Tim Barry:
"We shot well from the 3-point line and we played stellar defense the entire first half."

"We're looking forward to the opportunity iof playing in the quarterfinals — I'm so proud of this group. This was well-deserved success for being so committed to the team and West Hills High School."
The Imperial Valley Press contributed to this report.