Rebound champ Chew selected all-GSAC
Updated: February 22, 2023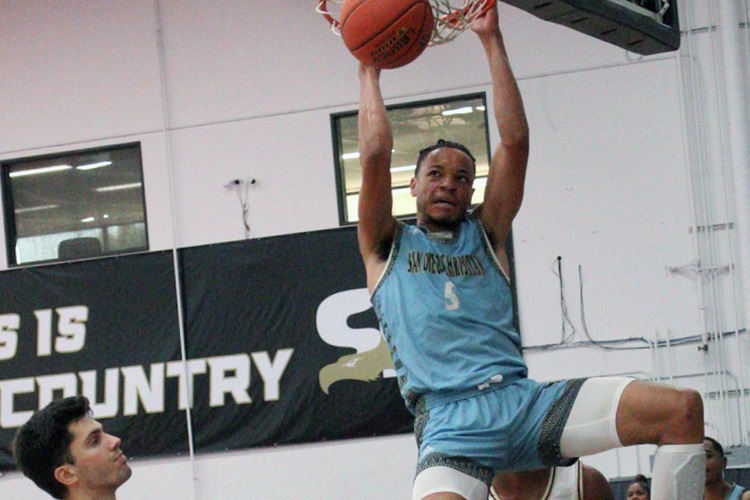 2022-23 SAN DIEGO CHRISTIAN COLLEGE
Men's Basketball / Women's Basketball / Women's Softball
From staff and wire reports
ALISO VIEJO – San Diego Christina College senior Greg Chew was named to the All-Golden State Athletic Conference team, as selected by conference coaches and announced Monday (Feb. 20).
Chew, who hails out of  Woodland Hills, was one of 12 players selected following a remarkable season, including the GSAC rebounding title with 10.4 boards per contest.
hew was third in the conference in scoring with 18.3 points per game, Additionally, he ranked fourth in blocks per game averaging 0.9, sixth in steals per game with 1.7, and 10th in assists per game, averaging 3.1.
From GSAC:
The 2022-23 Golden State Athletic Conference Men's Basketball All-Conference Team was released on Tuesday morning and features the 12 of the top student-athletes in the conference.  The team is headlined by Kaleb Lowery from The Master's University as he was selected as the GSAC Player of the Year.  The GSAC Freshman of the Year was Lowery's teammate, Kamrin Oriol.  The conference had Co-Defensive Players of the Year with Victor Ohia Obioha of The Master's University and Mikah Blackwell of Arizona Christian University.  The GSAC Men's Basketball Coach of the Year was Jeff Rutter from Arizona Christian University.

---
More Men's Hoops
SAN DIMAS -Although San Diego Christian College barely missed landing a berth to the GSAC Tournament, senior Greg Chew made the best of his final appearance for the Hawks.
Chew, a senior, registered his 13th double-double of the season, pouring home a game-best 27 points and 10 rebounds, as the ballclub continued a remarkable second-half run on the road by dropping Life Pacific University, 108-88, on Saturday (Feb. 18).
The Hawks surpassed 100 points for the first time in nearly a decade, when they downed West Coast Baptist College, 112-101, on Dec. 14, 2013.
Chew's effort came off a triple-double performance against Vanguard earlier in the week to end his collegiate career in style.
Josh O'Campo rained down three-pointers all night, scoring 25 points in 25 minutes. Senior Cameron Dashiell, given the freedom to fire away, did not disappoint, scoring 20 points of his own.
Ausage Siamu (15 points) and Jonah Felix (14 points) rounded out the double-digit scoring for San Diego Christian (7-12 overall, 6-12 GSAC), winning four of their last six GSAC road games.
In addition, the six wins in GSAC play was one better than the previous season.
According to SDCC:
"San Diego Christian not only once again played the toughest schedule in the entire NAIA, but was competitive in nearly every conference game until the final buzzer."
The Hawks battle six NCAA Division I schools (which don't count aganst their record) and an NCAA Division II school this season, adding to the ballclub;s growth and the school's top-noch road record over the second hla fo the season for heaqd coach Dwayne Cosby.
---
Women's  Basketball
SAN DIMAS – San Diego Christian College forward Bri Humphries, who missed the first half of the season, closed the second half with flair.
On Saturday (Frb. 18), Humphries, a freshman,  poured home a career-high 31 points to lift the Hawks to an easy 70-53 whipping of host Life Pacific University in GSAC action at Mehl Court.
Humphries, who hails from Sacramento, also hit her fifth 3-point shot of the season, the difference in topping her previous best of 30, set against The Master's on Jan. 12,. She also collected 29 points at Menlo on Jan. 19. Her bucket from beyond the arc came in the opening minutes when SDCC commanded an early leaf to a tip-to-buzzer victory.
A pair of seniors — Cynnadie Whatley (12 points) and Keren Hogue (13 points) — aided to build a 10-point halftime lead, with the margin browing to 17 points in the later going.
Meanwhile, Jamee Joseph, another senior, would finish one point and one rebound shy of completing another double-double.
Under first-year head coach Anessa Wolfblack, a former Hawks player, just missed reaching the GSAC Tournament, finishing with a 7-20 overall record (3-15 GSAC).
---
Women's  Basketball
SANTEE – Did the San Diego Christian College women's softball team play a doubleheader against the wrong opponent?
The Hawks ended up meeting powerful University of British Columbia (UBC) — as opposed to UABC, the school in Tijuana. Baja California — with the visiting Thunderbirds sweeping, 14-1 and 11-4, at Sportsplex USA on Tuesday (Feb. 21).
The Hawks received an RBI from first baseman Alicia Corona in the opener, then third baseman Bri Humphries slugged a two-run double in the fifth inning, allowing SDCC (3-5 overall) to avoid the run rule and complete the full seven innings.
A pair of errors in both contests led to an array of unearned runs.
On Friday (weather pending), San Diego Christian hosts a doubleheader against La Sierra University of Riverside,starting at noon — free admission!