Hawks: walk-off win over 1st-place Lions
2023 SAN DIEGO CHRISTIAN COLLEGE OMEN'S SOFTBALL
ECS staff report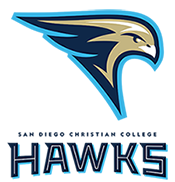 SANTEE – Early in the season, San Diego Christian College head softball coach Sarah McGrath expressed quiet confidence on the long-term outlook of her troops when Golden State Athletic Conference action starts in March.
"I'm not saying we're going to GSAC, but we will be compeititve," McGrath noted. "We just need a few pieces to fall into place."
So far, those elements are coming together — and in dramatic fashion.
Following a first-round bye, San Diego Christian needed to face first-place Vanguatd University, a program which has dominated the teams' series for more than two decades.
But not anymore.
On Friday (Mr. 10), the Hawks scored twice in the sixth inning to tie, then Alicia Corona (Hilltop High) registered the walk-pff, game-winning in the seventh to laser the Lions,3-2, at Sportsplex USA. The second game was suspended in the fourth due to rain.
In terms of game behind, the Hawks and Lions are even, but based on winning percentage — albeit, ust 1-0 — San Diego Christian is the leader at the top of the GSAC standings with Menlo (2-0 GSAC).
One of the pieces McGrath was hoping to correct was the mishandling of simple plays, both on offense and defense.  Although the defense still struggled, the execution of basic plays with the bats turned out to be the difference.
One of those difference makers was center fielder Maya Abrego. who placed a perfect sacrifice bunt down the third-base line to advance Ashley Waite (lead walk) into scoring position. Both are sophomores.
A third sophomore, Serena Shine, just missed winning the ballgame with a fly out to center field, but senior Alicia Corona (Hilltop High) did not miss, lining a basehit to score Waite for the winning marker.
Trailing 2-0, Corona was also instramental in tying the contest. Following her lead single, Emily Lonetree  bunted her to second base, for thee sacrifice.
Then with two outs, freshman third baseman Bri Humphries slugged a 2-run homer to shock the Lions, who were working on a 3-ht shutout entering the inning.
The late-game heroics with the bats made a winner of Hawks pitcher Amaryssa Medina,who tossed a 3-hitter, yet was poised to lose after being hurt by four errors behind her.
In the secnd game, rain stopped play in the fourth with Vanguard holding a 5-0 lead.
San Diego Christian (4-5 overall) returns to action with a pair of contest in Orange County on Monday, but at difference locations.
The Hawks meet Westcliff University at the OC Great Park in Irvine in an 11 a.m. doubleheader.
98 total views, 1 views today