CIF Boys Hoops: Home not sweet for El Cap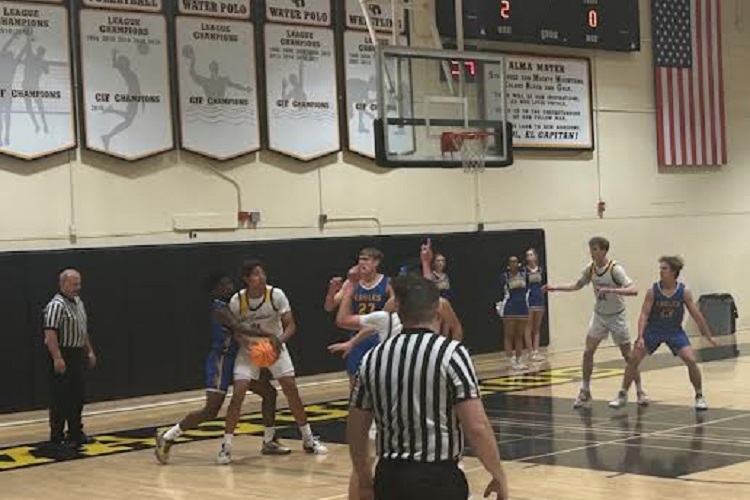 2022-23 EAST COUNTY PREP BOYS BASKETBALL
CIF-San Diego Section Championshipa
By Nick Pellegrino
ECS Senor writer
LAKESIDE – El Capitan High raced to an early 12-9 lead, but San Pasqual answered with an 8-0 run tio close the opening quarter, easily racing to a 65-51 verdict over the Vaqueros in the Division IV semifinals of the CIF-San Diego Section boys basketball championships, held at Foster Gym.
The Golden Eagles of southern Escondido (17-13 overall) advance to Friday's title game against Imperial. The Tigers (19-;  the Desert League titlist, will seek their 20th win of the season after nipping Kearny, 67-66.
Among all 12 CIFSDS games — six boys; six girls — held Wednesday (Feb. 22), the home team captured every contest except El Capitan, the No. 4 seed, which was set to the sidelines following the third straight postseason win by the No. 8 seed,
San Pasqual started the week with an upset of top-seed Vincent Memorial of Calexico, 56-52.
The Golden Eagles found a consistent game plan on defense, including a successful double-team on El Cap scoring leader Micah Odell whenever possible. Even when the senior found an open man, poor outside shooting kept the hosts on the short side of the scoreboard most of the night.
In the battle inside, Chance LaChappa enjoyed his one-man parade to the foul line, connecting on 10-of-12 free throws for a team-best 16 points. The junior also posted a team-leading five assists and three steals.
Odell was next with 15 points, while also grabbing 12 ewbounds for a doublue-double.
In addition, the Vaqueros received scoring from Jaylin Padilla (10) Marshal Mair (7), and a 3-pointer by senior Jason Wilson in the opening moments for a 5-4 lead.Senior writer.
172 total views, 1 views today