Hawks power display foiled by Mustangs
Alec Armone (25) belted a 3-run, go-ahead homer on Friday / SDCC courtesy photo
2023 SAN DIEGO CHRISTIAN COLLEGE DIAMOND SPORTS / Mrn's Baseball & Women's Softball
ECS staff report
CHULA VISTA – San Diego Christian College put on one of its best power displays of the season. The Hawks stroked a pair of home runs and three doubles, scoring five times in the second inning to take Friday's (Mar. 24) early lead.
However, The Master's University came back, including two runs inthe ninth inning to win, 8-6, in Golden State Athletic Conference action held at Southwestern College. The ballclubs entered the day tied for sixth place in the GSAC standings.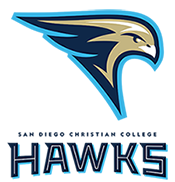 Both Hawks homers came in the second, with the batters taking the ball with the wind to right field.
Isaac Snyder started with a 2-run shot, briefly tying the contest, then Alec Arnone ,clouted a 3- run blast for a 5-2 lead.
The Hawks received doubles by  Hudson Beamon , Matt Beckworth   and Peyton Berroth.
Nevertheless, SDCC pitching  — they tried five differenty arms — failedtomaintain the advantage, especially against Mustangs center fielder  Austin Young, who belted a pair of home runs.
In the sixth, Evan Banks lifted a sacrifice fly to give The Master's a 6-5 lead, then Banks went deep for the second time in the ninth — a 2-run shot to give him three RBI – in the ninth.
The Hawks answered back with a run in the home-half of the ninth on a clutch RBI single by Trevor Baker with two down. However, the Mustangs called upon releiver Ryan Mathiesen to register the final out, which he did on a strike out to garner the save.
San Diego Christian 6-20 overall, 5-8 GSAC) will again host The Master's (18-9, 6-7 GSAC) on Saturday in an 11 a.m.doubleheader, again at Southwestern,
Wom,en's Softball
SANTEE — On Saturday (Mar. 25), the  site of the San Diego Christian College women's softball games has been moved, but too far away.
When the Hawks entertain Arizona Christian University in a doubleheader in Golden State Athletic Conference action, the contests will move less than a half-block to the west to Town Center Community Park (better known as the Santee ASA fields).
Among the four fields, Melody Fields will be used, starting at noon.
San Diego Christian home events are typically held next door at Sportsplex USA. No reason for the alteration was announced.
The Hawks (4-11 overall) birefly held theco-lead in GSAC play following a victory over Vanguard, but have since dropped seven straight contests (six in conference play), Last week, SDCC was swept by Jessup University. READ MORE
Arizona Christian (22-9) are in third place in the GSAC standings at 6-4, two full games behind front-running Hope International of Fullerton (20-4, 8-2 GSAC).