FEARLESS FORECASTER WEEK SEVEN
2015 FEARLESS FORECASTER
By Bill Dickens
© EastCountySports.com
SPRING VALLEY (10-8-15) — Not many teams have flexed their defensive muscle more consistently than the Valhalla Norsemen, who open the Grossmont Hills League season Friday (Oct. 9) Mount Miguel High.
All East County games kickoff at 7 p.m. Friday.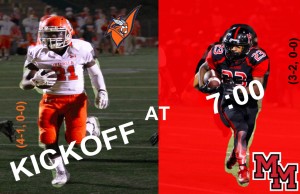 The Norsemen have some pretty flashy defensive numbers. They are allowing only 1.1 yards per play, 122 yards total offense and 24 defensive points.
Valhalla has recorded 10 interceptions, recovered 5 fumbles and blocked 2 punts in five games. They've won four straight since dropping a season-opening 14-7 decision to Otay Ranch.
Valhalla has allowed just 13 points in their last three games.
"You ask me who our ringleader is and I would have to say it's our defense," commented Valhalla coach CHARLES BUSSEY.
Senior defensive end DANIEL BENDER (6-5, 220) led the Norsemen defensive unit to a 37-6 mugging of West Hills a week ago. He chalked up 12 tackles, 4 sacks, blocked a punt and forced a fumble.
Linebacker LOGAN BAKER has 45 tackles, 5 sacks and an interception for Valhalla at the midway point in the season.
Coach Bussey also heaped accolades on CHIS YOHE, tackle JOSH McNISH-HEIDER, linebackers CHRIS WALLS, TREY SCHIMKE and CADE BAKER (no relation).
Bussey respects the speed of Mount Miguel (3-2), which welcomes back to the lineup ANTOINE HAMILTON, who has been sidelined the greater part of four games.
Mount Miguel has recorded back-to-back shutouts, over Monte Vista (48-0) and 55-0 over Serra.
Linebacker CAMERON HENSON has recorded 48 tackles in 5 games. "He's the anchor in our defense," said Mount Miguel coach SHAUN McDADE.
The first thing you notice about Valhalla is how their defense stands out of film," McDade said. "They have a log of moving pieces and run to the ball really well."
The teams have split the last 10 meetings, with Valhalla claiming a 38-26 victory last season. Six of the last eight contests between these two have been decided by a touchdown or less.
This game will no doubt be decided by defense . . . Valhalla 28-14.
HELIX (3-1) at STEELE CANYON (3-2), 7 – Few teams have a legitimate chance to pull an upset of No. 3 Ranked Helix.
Steele Canyon, which hosts the Highlanders in Friday's (Oct. 9) Grossmont Hills League opener, is solid on the defensive end but must find enough offense to pull off the deed. 
The Highlanders are looking to burst out of the chute for their 5th league title in 6 years.
"Helix has eight players who have either Division I-A or Div.-AA scholarships," said Steele Canyon coach SCOTT LONGERBONE. "These are kids who will be playing on Saturdays next year. They don't have any real weaknesses."
The head of the class is hard-nosed running back NATHAN STINSON, who has rushed for 566 yards and 10 touchdowns in 64 carries.
"Stinson has been killing us for the last 3 years," Longerbone said.
Helix quarterback MICHAEL AUSTIN has completed 46-of-66 passes for 642 yards and 7 TDs. "He's done a great job of reading the play, what Helix coach TROY STARR wants them to do."
Key players for Steele Canyon are running back PIERRE ALEXANDER (42-341, 6 TDs), quarterback THOMAS FISHBURNE (40-91), 517 yards and 2 TDs).
Outside linebacker MIKEL OLIVER and free safety NY JOHNSON are the cornerstones for the defense.
Steele Canyon hasn't won a league championship since 2005.
"We're one point away from being 4-1 this year," Longerbond said . . . Helix 35-13.
GROSSMONT (5-0) at EL CAPITAN (2-3), 7 – The longball striking Foothillers, who have scored 11 TDs on plays more than 70 yards apiece, will flash too much speed for defending champion and host in Friday's (Oct. 9) Grossmont Hills League opener.
Few teams have any answer for Grossmont's KHALEED "El Quatro" DAVIS, who has blinding speed – both as a wide receiver and as a punt returner. Eight of his long distance scores have come from the line of scrimmage, and one from punt returns. A penalty nullified another Davis led 88-yard punt return against Poway.
Davis leads East County with 25 catches for 480 yards and 7 touchdowns.
Not to be overlooked is versatile Foothiller JAKE HARR, who has rushed for 431 yards and 3 TDs, and caught 14 passes for 175 yards and a TD.
"We have to do a better job of execution and focus on ourselves," said Foothillers coach TOM KARLO. "We left a lot of points on the board. But this is an exciting time – the start of league – and I think our kids realize that."
Grossmont's unherald defensive is led by senior middle linebacker NATE TIAPULA, free safety RILEY HAVIRD (16 tackles and his 2nd interception of the season against Poway) and senior corner BRIGHTON HORNBROOKE is a major contributor to the secondary.
The Foothillers will welcome Samoa transfer DT OTTO TALATIANA to its forward wall.
El Capitan can only hope for an upset. The Vaqueros are overmatched in all phases of the game by the 5th ranked Foothillers.
The Vaqueros are still in a rebuilding process. Running backs STEVEN HOSAKA and CHANCE COLSON figure to make an impact in league play . . . Grossmont 42-14.
SANTANA (4-2) at MONTE VISTA (2-4), 7 – The Sultans' passing game, directed by East County leader FRANKIE GUTIERREZ (72-111, 1143 yds, and 12 TDs) should have a field day against Monte Vista in Friday's (Oct. 9) Grossmont Valley League opener for both teams.
Monte Vista will rely on the multiple talents of TRE OWENS, but he cannot carry the load by himself against an explosive Sultans offense as long as they keep the ball in the air.
The Monarchs hope they have enough offensive thrust to penetrate the soft Santana defense. That remains to be seen.
This is a battle to escape the predicted cellar finish. Both teams believe they are better than that
Ironically enough, the last four meetings have ended in lopsided victories, with Monte Vista winning the last three by a combined score of 130-20.
It will be much, much closer this time around  . . . Monte Vista 24-21.
PATRICK HENRY (2-4) vs. CHRISTIAN (3-2) at Granite Hills 7 – Christian High offensive coordinator DAVID BEEZER went fishing off the coast of Point Loma Wednesday night (Oct. 7), so he could mull over the Patriots' possibilities in the City Conference League which begins on Friday night (Oct. 9), when they host Patrick Henry at Granite Hills at 7 p.m.
After a 41-19 battering at the hands of La Jolla a week earlier, the injury-riddled Patriots regained their footing in time for the league opener.
"We've really been banged up," Beezer said. "This is the most injuries we've suffered in the 20 years that I've been coaching."
The return of senior running back ADRIAN PETTY, who is coming off a ham-string injury, will be an emotional lift for us for the rest of the season," Beezer said.
Christian's senior quarterback DAVID TODD JEREMIAH has completed 62 of 100 passes for 967 yards and 11 touchdowns in an effort to try to give an aerial lift to the Patriots.
Receivers THEO GOODWIN (21 catches, 340 yds, 5 TDs) and NICK SEXTON (16, 378, 3 TDs) are the mainstay of the Christian offense. Sexton averages 23.6 yards per catch.
If Christian can keep its feet on the ground, the nod should go to  .  . . Christian 32-26.
WEST HILLS (2-4) at EL CAJON VALLEY (4-1), 7 – In years gone by, the majority of the Grossmont Conference teams didn't want to play El Cajon Valley because the Braves have been a soft touch.
For example, in 2014, West Hills blistered the Braves 36-7 after four years of not playing the Madison Avenue squad.
In Friday's Grossmont Valley League opener the Braves will count on East County rushing leader NATHAN McCULLOUGH, who has rushed for 1074 yards and 13 touchdowns on 97 carries.
The Braves will also count on the SMITH brothers – TYSON and CHARLES, which become a pretty high powered offense for El Cajon Valley.
West Hills will look to versatile quarterback SPENCER MOYER as well as defensive backs/wide receivers TYLER SEPULVEDA and TAJ BROOMFIELD to carry the mail.
This is a pick 'em, and the nod goes to . . . West Hills 22-21.
GRANITE HILLS (4-1) at HILLTOP (2-3), 7 – Granite Hills must wait a week to open the Grossmont Valley League season, while at the same time the Eagles have to be cautious about tripping over host Hilltop in Friday's (Oct. 9) South Bay non-league contest. 
The Lancers may be better than their record as three of their games have been decided by 2 points. They beat Castle Park 8-6, and Chula Vista 35-33. They lost to Bishop's 19-17.
LYNDON FRANKLIN is the backbone of the Granite Hills running game with 324 yards and 2 touchdowns on 63 carries. His sidekick THOMAS YOUMOG (65-278, and 4 TDs). The duo carry the offensive torch for a defense anchored by NOAH JOUBERT, JACOB BURTON and CAMERON ROJAS.
In this one, look for . . .  Granite Hills 29-17.
MOUNTAIN EMPIRE (2-4) at HOLTVILLE (0-6), 7 – JAMES WILL (113 carries, 841 yards, 9 TDs) will lead visiting Mountain Empire to the land of the Vikings in Friday night's (Oct. 9) Manzanita League opener in the desert at Holtville. Kickoff is at 7 p.m.
Junior quarterback VICTOR PARRA (46-99, 846 yds, 8 TDs) will add flight to the Red Hawks' game plan.
Don't let the records deceive, but if the Red Hawks plan to win a championship, they can't stumble out of the gate . . . Mountain Empire 28-22.
Fearless Forecaster:
Season: 43-20 (.683)
Last week: 6-3 (.667)