Highlanders in familiar spot as favorite for finals
Updated: November 26, 2015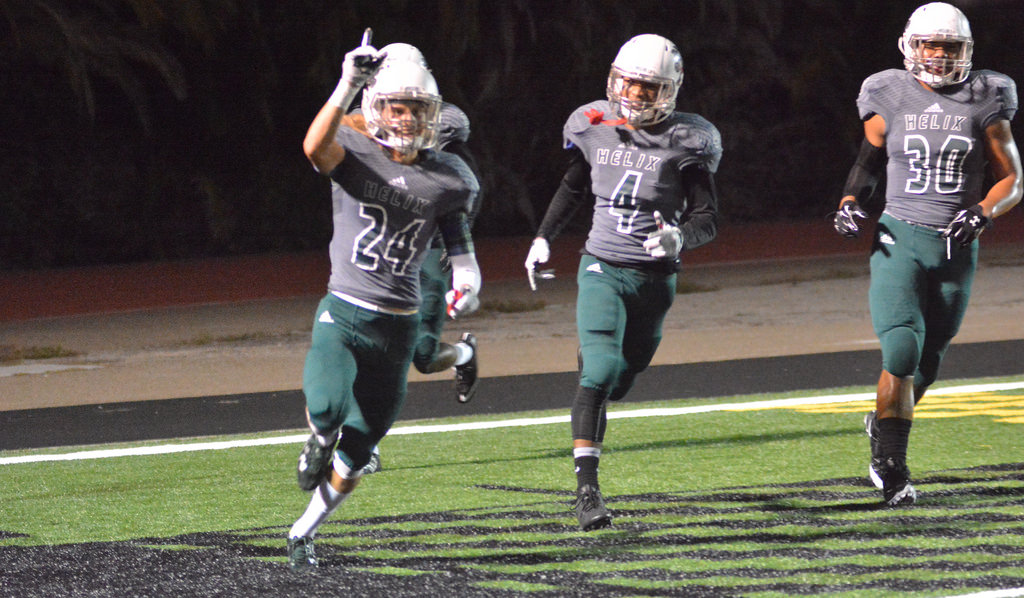 Helix's Nick Soliz (24), Jonathan Wyatt (4) and Zeke Noa (30) celebrate a touchdown. / EastCountySports.com photo
2015 FEARLESS FORECASTER
SDCIF Playoffs – Semifinals
By Bill Dickens
© East County Sports.com
(4) CATHEDRAL CATHOLIC (8-3) at (1) HELIX (9-1) – Football at this time of the season belongs to the Helix Highlanders. That is, the Highlanders are always playing for championship laurels and they will do so again as they host Cathedral Catholic on Friday (Nov. 27) in the San Diego Section CIF Open Division semifinals.
The Highlanders beat the Dons 27-5 in the CIF semifinals a year ago, and then lost to Oceanside 20-13 in the finals. So that disappointing loss provides Helix with added impetus in the bid for the Open Division championship.
If Helix knocks out Cathedral for the second game this season, the Highlanders could be lined up against undefeated Mission Hills 11-0 or St. Augustine 9-2.
The fact that Helix crushed Cathedral in the first go-around 37-7 should not lead the Highlanders to look past the Dons in the rematch for a potential showdown with either of the challengers.
"It's always an epic battle when we play Cathedral," said Helix coach TROY STARR. "We're playing a team with a great program, a team that we consider one of our rivals.
"We hit some big plays the first time we played them, and that made a huge difference," he added.
NATHEN STINSON scored on a 51-yard touchdown burst in that game to extend Helix's lead to 21-0, and quarterback MICHAEL AUSTIN threw a 78-yard TD pass to MEKHI STEVENSON.
"(Cathedral) runs a Wing-T offense with a mobile quarterback (Tate Haynes)," Starr noted.
Stinson is the mainstay of the Helix offense with 26 touchdowns and 1311 yards on 151 carries.
Austin has completed 95 of 146 passes for 1473 yards and 17 TDs for the Highlanders.
Stevenson has reeled in 27 passes and 10 touchdowns on 690 yards.
Linebackers ZEKA NOA is the anchor of the Helix defense with 51 tackles, 7 sacks and one fumble recovery, while JIHAD WOODS has also made an impact.
Six-foot-5, 225-pound senior rush end MASON VINYARD, who has a scholarship to Washington State, is also a key performer.
Although Helix has jockeyed with undefeated Mission Hills for the top spot in the San Diego County media rankings all season, a semifinal victory for each of the two teams would create an Open Division championship playoff on Saturday (Dec. 5) at Southwestern College that fans will find their money well spent.
This will be a battle for sure, but the nod goes to . . .  Helix 28-13.