Highlanders face toughest opponent in Starr era
Updated: December 10, 2015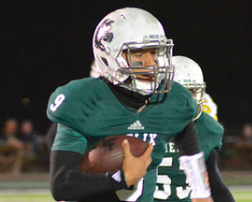 Helix QB Michael Austin
2015 FEARLESS FORECASTER
CIF Regional Finals 
By Bill Dickens
© East County Sports.com

LA MESA (12-10-15) — Facing without a doubt its biggest challenge since capturing the 2011 State Championship by knocking off Loomis Del Oro, the Helix Highlanders will tackle the undefeated Mission Viejo Diablos in Friday night's (Dec. 11) CIF Open Division Regional Finals at 7:30 at Mission Viejo.
"They have no weaknesses that we can tell, looking at film," said Helix coach TROY STARR. "They're as good a team as we've played since I've been here (8 years)."
Mission Viejo is averaging 43.4 points per game, and is giving up 16.7 – and this is against the best competition in Southern California. 
The Diablos (14-0) posted an impressive regular season Southern Section Open Division rout over Dana Hills of 77-0, and then went on a four-game playoff binge. 
They hammered Hart 49-14, toppled Murrieta Valley 42-21in a quarterfinal victory, and then continued on to rock Chino Hills 56-21 in the semifinals. In the CIF Southern Section finals the Diablos held off Vista Murrieta 21-14.
Record-breaking quarterback Brock Johnson is the triggerman for Mission Viejo. The 6-foot-2, 185-pound senior has completed 178 of 278 passes for 3252 yards and 37 touchdowns. He is being recruited by Princeton, Yale, Columbia and Stanford. He is rated a three-star recruit according to Scout Recruiting Services.
Johnson has fine bloodlines. His uncle, Rob, was the quarterback for USC and the Buffalo Bills. His dad Bret Johnson won two CIF titles at El Toro and played at UCLA and Michigan State. 
"They have a precision passing game," Starr noted. "They also have a power running game and a big offensive line. Make no mistake about it, they are one of the fastest teams in the state."
Speed is one of the main factors in Helix's game, spearheaded by hard-nosed running back NATE STINSON (180 TCB, 1704 yds, 31 TDs). He's also a stealth threat on screen passes.
Stinson scored 5 touchdowns and totaled 319 total yards as the Highlanders slapped the St. Augustine Saints 44-30 in the San Diego Section finals.
Quarterback MICHAEL AUSTIN has completed 118 passes of 183 attempts for 1755 yards and 18 touchdowns. He also rushed for 391 yards and 8 touchdown on 78 carries.
Although the Highlanders are known more for their running game, they do have some sure-handed receivers led by MEKHI STEVENSON (36 catches, 779 yds, 10 TDs). 
Two-way starter SCOTTIE YOUNG has also reeled in 30 passes for 394 yards and 2 scores. He has recorded 4 interceptions, as has NICHOLAS SOLIZ on the defensive side.
The ringleader of the Helix defense is junior linebacker ZEKE NOA, who is averaging a team best 11 tackles per game. 
Helix's front defensive wall is anchored by three-year starter FORREST HANLON and SEFA TAUANU'U.
"We have a little bit of a hangover coming from an amazing win over Saints," Starr said. "That was just a wonderful win. Now we have to step up, turn the page and take on an even stronger team."
Our guess is . . . Mission Viejo 35-28.
Click here to go to the TWCCommunity website for the live stream at 7 p.m. on Friday