2016 Prep girls soccer playoffs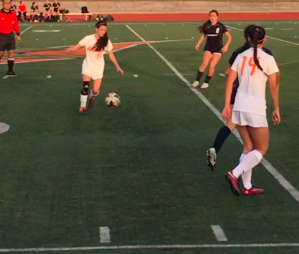 Valhalla moves the ball against High Tech Chula Vista on Tuesday.
2015-16 PREP GIRLS SOCCER CIF PLAYOFFS
By Damon Santore
EastCountySports.com
Tuesday (Feb.23) marked the start of CIF Girls soccer playoffs throughout San Diego County. 24 games in total were played to decide who would advance in their bracket. Over the next few weeks there will be a champion crowned in six different divisions.
In the Open Division the Cougars of Steele Canyon High School were bested 6-0 by La Costa Canyon. Steele Canyon looked to improve on their winning record this season (9-5-7) and carry momentum going into the next school year.
Division II
The eleven seed Santana Sultans looked to travel to the six seeded Canyon Crest Ravens and take a win on the Ravens home field. Santana found themselves in a 3-0 hole after the first half. They continued to show their spirit fighting back with a goal of their own but ultimately fell 4-1.
The Valhalla Lady Norsemen played a great team game and came away with a big win against Chula Vista High Tech 5-0. Valhalla will look to continue their stride against their rival Granite Hills on Friday February 26 @ 5 PM. The game will be played on a neutral site.
Division III
The El Capitan Vaqueros vanquished their opponent Central High School who was riding a playoff win. El Cap was able to slow Central's momentum coming into the game and take an early lead. From there, El Cap cruised to a 6-0 win and will look to continue their strong play against fellow east county team Helix High on Friday February 26 at 5 PM on a neutral site.
Division IV
Foothills Christian was unable to obtain victory in a tightly contested game against Castle Park. Castle Park took an early 1-0 lead and added a second half goal to make the final 2-0. Foothills Christian will look to build on this season's success (12-3-4) in the near future.
Division V
In Division five action, a nail biter ensued between 2-seeded El Cajon Valley and 7-seeded Sweetwater High School. A shootout was needed to decide the winner after both teams played phenomenal defense in regulation and overtime to the tune of a 0-0 tie. El Cajon Valley was able to win the shootout and advance to the next round where they will face Calexico High School on Friday February 26 at 5 PM.
Calexico advanced by beating River Valley in a showcase of offense 6-2. Thus setting up a showdown between the 2-seeded El Cajon Valley Braves and 3-seeded Calexico Bulldogs.
Liberty Charter was unable to tie to game after going down one nothing in a match against Imperial High School. After  a scoreless first half, Imperial was able to score and hold on to advance.