LCC ends Eagles' awesome playoff flight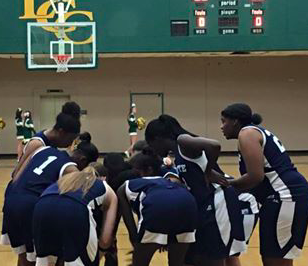 Granite Hills huddles before its playoff game at La Costa Canyon Tuesday night.
2015-16 EAST COUNTY PREP BASKETBALL – SDSCIF PLAYOFFS OPEN DIVISON
By James McHugh
© East County Sports.com
CARLSBAD (3-1-16) – The old adage goes "On any given night." The Granite Hills Eagles entered the San Diego Section Division I playoffs as the No. 10 seed, holding two wins against No. 15 seeded Helix, a split series with Open Division Mount Miguel and another split with No. 6 seeded West Hills. The Eagles lost twice to No. 4 seeded Mater Dei during the regular season and also posted defeats against No. 12 seeded San Diego and No. 7 seeded Ramona.
In their first two playoff games, Granite Hills won their rematch with Ramona and then downed the No. 2 seeded Mt. Carmel Sundevils who had already bested the Eagles' semifinal opponent La Costa Canyon twice this year. There's also an old adage that says "Its not how you start, its how you finish." The Eagles season is finished after a 56-54 loss to La Costa Canyon on Tuesday night (Mar. 1), but the Eagles have many positives to look back on regarding their 2015-2016 campaign.
For the second consecutive season, the Eagles reached the semifinals of the Division I bracket by knocking off higher seeds in their division. Ramona has been the victim of lower seeded defeats from Granite Hills in their past two seasons now. Poway was the No. 1 overall seed in Division I last year when the Eagles made their trip up North and robbed the Titans of their championship dreams. And just this past week the Eagles knocked off a No. 2 seeded Mt. Carmel team looking to rebuild its legacy.
"Down the stretch we pulled ourselves from the abyss," said Granite Hills coach CURTIS NORWOOD. "People had to take notice of us."
In the coming months those realizations will become more solace for the Eagles (16-13) than they were Tuesday night as their season came to a close.
For now the Eagles know that they let one slip away. Granite Hills cut a five point first quarter deficit to three by halftime Tuesday night but could never quite get over the hump against the Mavericks (23-8).
Foul trouble also bothered the Eagles who entered halftime with three players carrying three fouls. MICAYELA HERNANDEZ led the Eagles scoring on the night but sat for nearly 12-minutes over the second and third quarters after picking up her fourth foul.
RAELLEAH MOORE had 12 points for the Eagles and was an even bigger impact on the boards, pulling down 15 rebounds on the night. The Eagles shot selection was efficient for most of the game. Granite Hills was able to rotate the offense for open looks time and time again against the La Costa defense. Unfortunately those open looks weren't falling for the Eagles. Granite Hills finished the night just 2-17 from three point land.
"I have no way of proving but I thought we had the best defensive team in the county," said Norwood. "When you hold teams like Mt. Carmel to 27 points, it shows. Playing against a quality team like La Costa Canyon we didn't go up there and roll over."
For all that went wrong, the Eagles never allowed La Costa Canyon to pull away, giving themselves a chance to win down to the final buzzer. Hernandez returned with seconds to play in the third quarter and within 20 seconds had stolen a Maverick pass, grabbed a defensive rebound and converted two layups to give the Eagles their first lead at 39-38 heading into the fourth quarter.
After buckets from DIAMOND HOLLIS and EMMA KUBARI it was again Hernandez coming to the rescue with a layup which put an end to a 7-0 Mavericks run and kept the Eagles within one point at 51-50.
Hernandez' final heroic effort came with 46.5 seconds to play as she landed two free throws and once again depleted a Maverick lead to a single point. The Eagles turned the ball over twice however, in the final minute, after missed free throws by La Costa Canyon left the door open, and failed to capitalize on two attempts to tie or take the lead.
The Eagles' season comes to a close in unfortunate fashion, but Granite Hills once again advanced beyond where their seeding said they should have been, and the effort Tuesday night showed that they were where they belonged. The Eagles were not lucky to be competing with a far superior opponent, they were, deservingly, in the fight until the very end.
"I feel bad for the seniors but I couldn't be prouder of the whole team," Norwood concluded.
Granite Hills:  Micayela Hernandez 16 (4 reb, 2 ast, 2 stl, 1 blk), Diamond Hollis 13 (5 reb, 2 blk, 1 stl), Raelleah Moore 12 (15 reb, 2 stl, 1 ast, 1 blk), Kani Kubari 8 (11 reb, 2 blk, 2 stl, 1 ast), Emma Kubari 5 (6 reb, 3 ast), Chase Robles (2 reb, 1 stl).