Sockers put 12-pack up on Express
Updated: October 30, 2016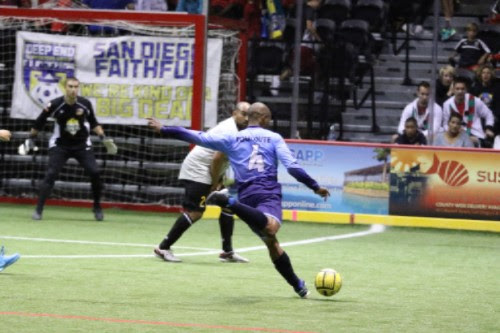 By Chris Davis
© EastCountySports.com
SAN DIEGO (10-30-16) – The San Diego Sockers welcomed their #QuestFor15 in with a 12-1 thrashing of the Turlock Express on Saturday (Oct. 29) in front of 3,025 at the Valley View Casino Center.
"Great performance," said former Aztec Kraig Chiles who had a five-point night in the victory. "It was a long pre-season. We worked really hard to get ourselves into the position that we are in."
The Sockers (1-0) wasted little time as they scored the first goal of the night in the fifth minute as three-time league MVP Chiles from Victor Quiroz. Two minutes later, Reymundo Reza scored unassisted to make it 2-0.
Chiles scored his second goal of the night in the ninth minute, again from a feed from Quiroz for a 3-0 lead. That is how the quarter would finish. "It was nice to get the first goal of the season," Chiles stated.
The second quarter saw the Sockers erupt for a six-pack of goals. The attack was led by Eddie "Vaquero" Velez's hat dance. Velez scored a pair of goals just over three and a half minutes. Erick Tovar added a goal to the team tally less than 90 seconds later.
Chiles registered his first hat trick of the season at the 7:17 mark of the second quarter. Chiles turned into the facilitator about six minutes later as he fed new comer Max Touloute. 18 seconds later Anthony Medina put the cap on the scoring in the first half with a very nifty run up the field. The score put the Sockers up 9-0 at intermission.
Things only got slightly better for the Express (0-1) in the second half as they scored 84 seconds into the third quarter.
Touloute regained the nine-goal lead near the end of the third quarter. Keeper Chris Toth threw the ball to Touloute near the referee crease on the right side of the pitch. Max took it the rest of the way and unleashed a devastating laser from just inside the top of the box.
The fourth quarter saw Luan Sales Oliveira and Medina register goals for the winning side. "We made some pretty big adjustments in player personnel over the off-season," Chiles stated. The team got a little bit younger, a little bit quicker. There is a lot of upside, but a lot of the younger players need to figure out their place in our system."
The Sockers will take on traditional power the Dallas Sidekicks on Saturday, Nov. 5 at the Valley View Casino Center. First touch is scheduled for 7:00 p.m. Tickets can be purchased at sdsockers.com