Hillers' Warsaw is MLK star; Eagles rally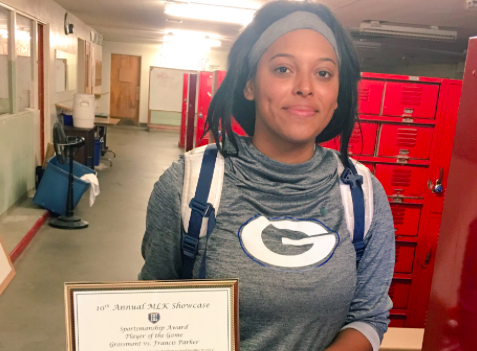 2016-17 EAST COUNTY PREP GIRLS BASKETBALL
By Bill Dickens
© East County Sports.com
SAN DIEGO (1-17-17) — TYANA WARSAW spun in 20 points, grabbed 11 rebounds, blocked 2 shots and made 2 steals to lead the Grossmont Foothillers past Francis Parker 70-35  in an MLK Shoot Out game Monday (Jan. 16).
Warsaw was named Player of the Game for the Horizon MLK Shoot Out.
ATHENA SOTELO tossed in 18 points, while CANDACE HENDERSON added 14.
EMILY BARNES scored just 2 points but grabbed 9 boards.
Grossmont:  Tyana Warsaw 20 (11 reb, 2 blk, 2 stl), Athena Sotelo 18 (4 reb, 6 ast, 5 stl, 1 blk), Candace Henderson 14 (2 stl), Taisha Silas 9 (3 reb, 3 ast, 1 stl), Nailah McDuffie 4, Sabrina Yohannes 3 (3 reb), Emily Barnes 2 (9 reb).
GRANITE HILLS 40,  SAN DIEGO 30 – Granite Hills snapped a 3-game losing streak on Jan. 16 in an MLK Classic game as they defeated the San Diego Knights.
"We trailed at halftime," said Eagles coach CURTIS NORWOOD. "We were down by 6 or 7. Then we cleaned up the offense and started executing a little better.
"We came from behind and took the lead by the fourth quarter, thanks to KANI KUBARI and SHANICE LACY – they did some great rebounding and showed inside dominance."
"We didn't shoot from the outside at all. But we turned up the defense and were able to get the ball inside to our bigs."
TORREY PINES 57, HELIX 45 – For the second time this season Torrey Pines upended Helix in the MLK Classic on Monday (Jan. 16),
Helix:  Brooke Owens 14, Danielle Simmons 12, Diamond Whitley 8, Taliah Hooker 7, Olivia Missouria 3, Marina Smith 1.