6-0 Lady Patriots can't be stopped
Updated: December 8, 2017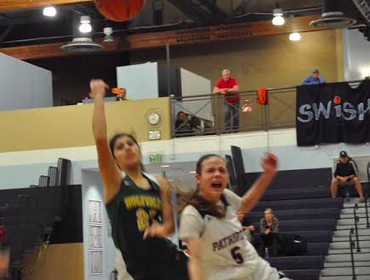 Christian freshman KRISTEN WILLIAMS battles for a loose ball against Holtville on Thursday.
2017 EAST COUNTY PREP GIRLS BASKETBALL
By Dave Dickens
EastCountySports.com
EL CAJON (12-7-17) – Holtville was gonna bring everything they had, including a 4-1 record, and to earn some respect at the Eagle Classic Tournament.
With Christian High being undefeated with a 5-0 record, the Lady Patriots have established themselves as the team to beat following Thursday night's tilt as the Lady Patriots handled the Vikings, 70-42
The Patriots spotted Holtville a 6-2 lead, but that was short-lived as Christian pounded the Vikings after the tightly-contested opening quarter.
Holtville kept it close in the first half of play, as the Lady Vikings were only down 31-26 at the half with a very impressive effort.
However, it was definitely a tale of two halves, as the Lady Vikings would only score 4 in the 3rd quarter and 12 in the 4th, as the Patriot defense began to recognize the offensive game plan.
The Lady Patriots finally got it together, as SIMONE JAMES, KRISTIN WILLIAMS, and HANNAH
RICHARDSON put it into gear and stole the show.
James ended up with 26 points, 16 rebounds, and 6 steals, which ultimately shifted the momentum.
Williams and James combined for a series of baskets in the second quarter to help the Patriots build a 37-26 halftime lead.
BRITTANY TATE hit a three-pointer in the fourth quarter to up the lead to 58-32.
Williams added 19 points and Richardson finished with 12.
The Christian High Lady Patriots continue their domination under newly acquired head coach VICKIE CARRINGTON, as she continues to teach this talented group teamwork and leadership.
The Lady Patriots are now 6-0 and will face 4-3 Mater Dei Catholic on Sat., Dec. 9.