Griffins accept gifts from baseball gods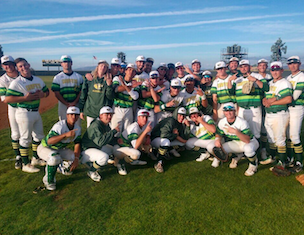 Grossmont College after winning game two of the series on Thursday.
2019 COMMUNITY COLLEGE BASEBALL

East County Sports staff report
EL CAJON (3-1-2019) – It may only be first week of Pacific Coast Athleic Conference play, but a clear advantage has already been established by Grossmont College.

The Griffins scored three times in the bottom of the 8th inning without hitting the ball out of the infield Thursday (Feb. 28), taking a 3-2 triumph over visiting Palomar College at Noel Mickelson Field. The second straight one-run victory among these PCAC powers gives the G-House an early 2-game lead over one of their chief rivals.

Elsewhere, Southwestern, Mesa and Mt. San Jacinto also took 2-0 series leads to open conference play.

Grossmont pitcher Bailey Roberson yielded just one earned run over 8 solid innings, but it looked like he would be hooked with the loss until the Griffins accepted a series of gifts.

In the decisive 8th, Grossmont was granted a free run when left fielder Terrence Simmons accepted a bases-loaded walk to score center fielder Alexei Andranovich, capping a sequence of two walks, a hit batter, and another walk to trim the deficit in half to 2-1.

The next batter grounded into a fielder's choice at the plate, so when pinch hitter Darien Cossio also put the ball on the ground, the Palomar first baseman again went home with the ball.

However, disaster struck the Comets on two fronts.

Grossmont's Joshua Verdon hustled down the line and beat the throw home to score the tying run. The Palomar catcher then fired to third base for an out, but something (not listed in the game summary) went array and Simmons would also come home with the go-ahead run.

The fired-up Griffins then sent closer Michael Bovee to the mound. He registered a 1-2-3 frame to earn the save on a pair of shallow fly balls to left field,  sandwiched around a ground ball to third base.

The final game in the series between the schools will be Saturday (March 2) at Palomar, starting at noon.