BOYS: Monarchs win third straight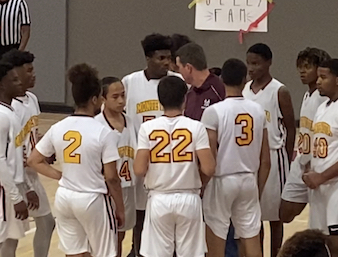 2019 EAST COUNTY PREP BASKETBALL
EastCountySports.com staff report
SPRING VALLEY – The Monte Vista Monarchs kept up their winning ways by defeating the visiting Maranatha Christian Eagles, 69-57, on Wednesday.
Cameron McKan came off the bench to score 24 points, including 16 in the second half.
McKan hit a pair of three-pointers in the second half, as well. He also grabbed six rebounds.
But it was point guard Sirr Young that got Monte Vista off to a strong start, scoring six points in the first quarter.
Monte Vista was able to improve to 6-2 despite eight three-point field goals by Maranatha.
The Monarchs have won six of their last seven games following a season-opening loss.
Niamiah Alston, who is coming off a fine season for the Monarchs on the gridiron, had 10 points and 10 rebounds to help the winning effort.
Dyvarre Dawson had 10 points, four steals, and a pair of rebounds for the Monarchs.
Ivan Maynard had eight points, four rebounds and three steals for Monte Vista.
The Monarchs led 18-12 after one quarter but the Eagles closed the gap to 33-29 at halftime.
However, Monte Vista extended its lead in the third quarter by outscoring Maranatha, 19-13.
"(Maranatha Christian) is a very good shooting team," Monte Vista head coach Mike Tully said. "Our kids played extremely hard. Cameron (McKan) gave great energy off the bench."
Anthony Sandoval had four steals and two rebounds for Monte Vista.
Monte Vista will next play Mt. Carmel on Thursday night in a Grossmont Tournament game at West Hills High.
HELIX 62, LA JOLLA 49 – The Highlanders won their second in a row at the Hilltop Tournament with a win over the Vikings.
The Scotties recovered from an 18-15 deficit after the first quarter to take a 25-24 lead at halftime.
But the difference was in the second half.
Helix outscored La Jolla 15-10 in the third quarter and improved to 4-3 on the season.
La Jolla fell to 2-7.
Helix will face host Hilltop on Friday at 3 p.m.
FOOTHILLS CHRISTIAN 89, UNIVERSITY CITY 69 – The third-ranked Knights handed the Centurions their first defeat of the season with the Grossmont Tournament win at Grossmont High.
Nico Meza and Jalai O'Keith each finish with 24 to lead the Knights. Both players had 10 points in the first half as Foothills Christian led 49-30 at halftime.
Foothills Christian led 69-49 at the end of three quarters after the Centurions had whittled down the lead to 13 points with a 10-0 run with 3:16 left in the third.
Foothills Christian led 21-15 after one quarter by forcing a series of turnovers.
Foothills took a 28-17 lead with 6:30 left in the second quarter.
Yassine Gharram with the pretty lob to Jalai O'Keith, who finishes it emphatically. 60-41, Foothills, 4:19 in the 3rd @FCHSBBALL @yassinegharram1 @okeith_jalai pic.twitter.com/wYr8a6fESA

— Full-Time Hoops (@FullTimeHoops1) December 12, 2019
POINT LOMA 65, GRANITE HILLS 52 – The Eagles are playing a touch schedule early, but fell to 1-6 with the road loss at the Pointers' gym.
"We're definitely getting better and playing better as a team," said Granite Hills head coach Dan Duffy. "This was a competitive game that came down to a few shots and a few free throws. It was a very competitive game."
McKay Roberts led the Eagles' effort, according to the coach.
"McKay played great, his best game of the season," Duffy said.
The Eagles trailed just 29-26 at halftime
"Everyone was getting out of control and I was just trying to be a calming factor and chip at their lead by making smart plays," Roberts said. "I felt I was facilitating more than usual, just guys weren't hitting their shots and that's all it came down to. We couldn't stop their big guy and no one really got going so it ended in a loss."
The Pointers extended the lead to 44-36 after three quarters.
"We've lost a few games this season where we didn't shoot well at the free-throw line and the other team did," Duffy said. "Point Loma's big man (Tyler Morris) is very very good. Give Point Loma and specifically their very talented big man credit, he is a very talented player."
The Eagles are getting a rematch on Friday with the West Hills Wolf Pack, who defeated Granite, 76-72, in overtime back on Nov. 25.
The Eagles' victory this season came against the Southwest Eagles back on Dec. 2.
"I'm very proud of the team's progress," Duffy said. "We're far from where we need to be, but this tough competition is getting us better every game.
LA COSTA CANYON 80, SANTANA 59 – The Sultans fell to 1-7 with the home loss to the Mavericks.
La Costa Canyon led, 61-41, after leading, 40-26, at halftime.
The Sultans eventually closed the lead to 11 points.
La Costa Canyon led 22-14 after the first quarter.
Santana will be back at home on Thursday against Mira Mesa (1-5) at 7 p.m. in a Titan Challenge game.
ESCONDIDO 94, MOUNT MIGUEL 50 – The Matadors fell to 0-2 with the road loss at Escondido (5-2).
Mount Miguel returns to action on Dec. 26 against Morse in a Montgomery Tournament game at Mount Miguel High.