Forgotten Knights handle Marauders
Updated: January 28, 2020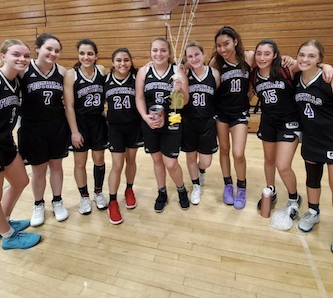 The Knights following their win over Mira Mesa on Monday.
2020 EAST COUNTY PREP GIRLS BASKETBALL
FOOTHILLS CHRISTIAN 59, MIRA MESA 45
EastCountySports.com staff report
MIRA MESA – Not much has changed with the Foothills Christian girls basketball team this season when it comes to winning.
In fact, the team is likely on its way to posting a better record than last year club, which finished 25-7, losing the San Diego Section Division III championship game to Madison by just two points.
On Tuesday, the Knights ran their record to 18-4 by outlasting the Mira Mesa Marauders, 59-45, for their third straight win.
Yet, the Knights, which appeared inside the top 20 in the county poll for a few weeks earlier this season, were nowhere to be found once again when the latest rankings were revealed on Monday.
The Knights are the favorite to win the Pacific League this season.
Foothills Christian's league season starts Wednesday when they host top challenger Pacific Ridge (13-3, 1-0 Pacific) at Granite Hills High at 7.
It will officially be the Knights first home game of the season, which makes their record appear that much more impressive.
Senior Ellie Turk had 24 points, five assists, three rebounds, and a pair of steals in the win over Mira Mesa.
Sophomore Nataly Bravo added 10 points, five rebounds, and five assists for Foothills Christian.
Junior Arantxa Fonseca contributed seven points, eight rebounds, and three blocked shots for the Knights.
Foothills junior Caroline Burke added six points and five rebounds.
Faith Wilson came home with six points,and three rebounds, while teammate Christie Sarkis also had six points, along with a pair of steals for FCHS.
"This was a good final non-conference game for us as we get ready for our first league game this Wednesday," Foothills Christian head coach Joey Turk said. "We are beginning to get consistent contributions from multiple players which makes us a better team. Hopefully, our defense will continue to improve which should make us a tough team to beat in conference and as preparation for CIF playoffs."
The Knights, who have three players averaging in double figures in points, are a top contender in Division III, along with the likes of Point Loma and Helix, and Pacific League foes Pacific Ridge and Escondido Charter.
Helix defeated the Knights in an earlier regular-season meeting.
VINCENT MEMORIAL 50, MOUNTAIN EMPIRE 21 – The undefeated Scots downed the host RedHawks in a key Manzanita League game with 30-12 first-half advantage.
Vincent Memorial, ranked 22nd in the county poll on Monday, improved to 5-0 in league and 18-0 overall. The Scots are the only undefeated team in the section.
Mountain Empire fell to 3-2 in Manzanita play and 7-8 overall.