GIRLS: Patriots reach milestones in victory
Updated: January 29, 2020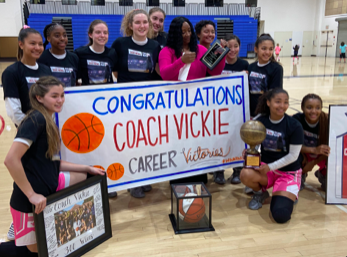 The Christian High Patriots following coach Vickie Carrington's 300th career coaching victory.
2020 EAST COUNTY PREP GIRLS BASKETBALL
EastCountySports.com staff report
EL CAJON – The Christian High Patriots defeated the visiting Otay Ranch Mustangs, 83-45, on Tuesday evening, providing head coach Vickie Carrington with her 300th career victory.
Carrington, a championship coach while guiding Horizon Christian Academy between 2004-17, has 58 wins as coach of the Patriots.
In addition, Christian High senior Simone James, who began her prep career under Carrington at Horizon, was honored for surpassing 1,500 career points.
Also, Patriot junior Kristin Williams was recognized for her accomplishment of reaching 1,000 points in her career thus far.
James poured in 33 points in the win over the Mustangs on Tuesday, while Williams finished with 14 points in the contest.
Senior Allie Carreon added 13 points for CHS.
Freshman Koko Akridge had three three-pointers for the Patriots.
The sixth-ranked Patriots, who improved to 15-8 on the season, will play Mira Mesa on Friday at 6 p.m. in a Western League game.
MONTE VISTA 52, GRANITE HILLS 43 – The Monarchs picked up a key win in the Grossmont Valley League race by defeating visiting Granite Hills on Tuesday.
Sami Gonzalez scored 15 points and had three steals for Monte Vista, which improved to 3-2 in GVL play (10-13 overall).
Jourdan Barber scored 14 points for the Monarchs. She also had 11 rebounds.
"Our victory over Granite felt good," Barber said. "They had a good offense and we had to contribute together to figure out who their ball handler was, their shooter and who they passed the ball to the most. We did really well in the first three-quarters of the game but in the fourth, they started catching up and we had to put a lot more pressure because that's what they didn't like. Overall it was a really good game. all the girls on the court played well."
Meadow Delino added 10 points for MVHS.
The game was close early, as the Monarchs led just 17-14 after the first quarter, as Barber scored six points.
However, Monte Vista extended the lead to 47-26 at the end of the third quarter.
Gonzalez scored nine points in the third and combined with Barber for 15 points in the period.
"Our bigs did an amazing job," Gonzalez said. "I am proud of Jourdan getting our rebounds. She really did an amazing job. We all stepped up. I'm proud of the team."
The Monarchs were one of several local teams that paid tribute to the victims of Sunday's helicopter crash in Los Angeles.
"It was a sad moment for everyone really," Gonzalez said. "He was a hero of mine. Every time I step into the court when I was young, I would look up to (Kobe Bryant). I wanted to be like him and now that he is gone, it just shows the tough reality. But today's game was for him."
"It was kind of sad doing the remembrance of Kobe and his daughter Gigi," Barber said "All the basketball girls had to come together and to honor him and remember him as a great basketball player and father. His legacy will continue and he will always be remembered."
The Eagles made a solid run in the fourth quarter, as sophomore Fonivictoria Pitia scored six of her team-high 18 points in the final stanza.
Senior Blanca Hernandez scored 13 points for the Lady Eagles.
Achella Agoth, a senior, made a three-pointer in the fourth quarter for Granite Hills (7-14, 2-3 GVL).
Monte Vista will host Steele Canyon on Friday at 5:30.
STEELE CANYON 36, SANTANA 35 – The Cougars stunned the first-place Sultans, handing Santana its first Grossmont Valley League loss of the season.
The Cougars led 8-7 after the first quarter and 17-15 at halftime.
However, Steele Canyon opened up a 31-21 lead after three before the Sultans posted their fourth-quarter comeback.
Lakaila Aquiningoc-David paced Santana with 15 points, five rebounds, and five steals.
Joey Barkhimer added eight points and 14 boards for the Lady Sultans.
Bella Terry, of Santana, finished with seven points, 11 rebounds, and six blocked shots.
"It wasn't enough to come out with the win," Aquiningoc-David said. "There was too much chaos and we just couldn't calm down. I'm going to continue to be aggressive and just learn from tonight's game.  That's all I can do is move forward and make sure that it doesn't happen again. I'll get back to work at practice tomorrow and continue to get better."
MOUNT MIGUEL 61, GROSSMONT 33 – The Matadors got 26 points from freshman Jennifer Moreno to help her team keep pace in the Grossmont Hills League race with the win over the host Foothillers.
Moreno also contributed seven rebounds and three assists.
Freshman Ixchel Rojo added 14 points and five assists for Mount Miguel.
Junior Jacquee Brown finished with 11 points and six rebounds for the Matadors, who improved to 14-6 overall and 3-1 in the Grossmont Hills League.
Freshman Zanna Hurst added six points for Mount Miguel.
Grossmont fell to 2-2 in the GHL and 11-11 overall.
EL CAPITAN 66, WEST HILLS 19 – The Lady Vaqueros blitzed the Wolf Pack to win the Grossmont Hills League game in Santee on Tuesday.
Mackenzie Curtis hit a three-pointer for El Capitan in the first quarter to extend the early lead to 14-3. Her three-pointer in the second quarter extended the lead to 29-6.
Shiana Peres had a three-pointer in the second quarter for El Cap.
Curtis and Peres both made another triple in the third quarter.
El Capitan improved to 4-0 in the GHL and 15-8 overall.
The Vaqueros remained unranked in the county poll, which was released on Monday.
Caitlyn Stayner made a three-pointer in the first quarter for West Hills, while teammate Paige Evans had a trey in the third quarter.
VALHALLA 48, EL CAJON VALLEY 38 – The Lady Norsemen defeated the Braves with a big second-half performance.
The Braves led 18-8 at the end of the first quarter but Valhalla scored 40 points in the second half.
Valhalla outscored El Cajon Valley 21-13 in the fourth quarter.
Valhalla improved to 2-2 in the Grossmont Valley League standings. It was the second win of the season overall for Valhalla.
Senior Vean Gorgees led the Braves with 14 points.
LIBERTY CHARTER 41, SAN YSIDRO 36 – In a topsy-turvy game, the Lions lost an early lead but rallied in the fourth quarter to improve to 4-0 in the Summit League and 15-5 overall.
The Lions led 14-6 after the first quarter but the lead was whittled down to 20-18 at halftime.
San Ysidro took the lead after three quarters, 32-27, but Liberty outscored the Cougars, 14-4, in the fourth.
Senior Jessica Salvador led LCHS wtih 14 points.
Freshman Sabrina Espelet and junior Tatiana Taylor both scored 10 points for Liberty Charter.
Espelet added five rebounds, five assists, and five steals, while Taylor grabbed 15 rebounds and blocked seven shots.