Master's down Hawks for 18th straight win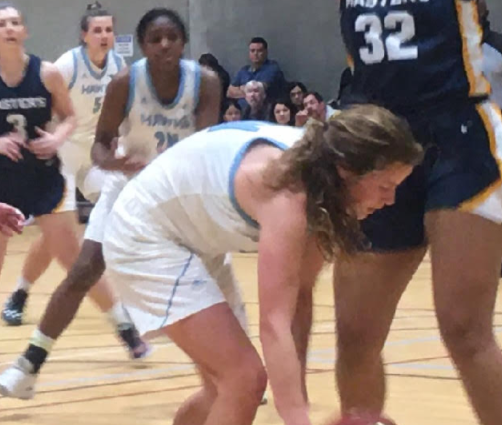 San Diego Christian reaches for possession on Thursday. / Nick Pellegrino
2021-22 SAN DIEGO CHRISTIAN HAWKS WOMEN'S BASKETBALL
ECS staff report
EL CAJON —- Among opponents which always give San Diego Christian College trouble, The Master's University ranks among the most arduous to defeat. Well, that was true until the Hawks registered a breakthrough victory last season.
On Thursday (Jan. 13), the fourth-ranked Mustangs enacted their revenge, running their season-long winning streak to 18 ball games.
The Master's center Stephanie Soares, the reigning Golden State Athletic Conference women's basketball player of the week, solidified her place as the second-leading scorer (20.2 average) in GSAC by collecting 18 points in an 83-42 decision over the Hawks at El Cajon Salvation Army gymnasium,
Soares, a 6-foo-6 post from Brazil, registered almost half of her points from the foul line (8-for-10). The junior also rates second in GSAC in rebounding, making her the early contender for GSAC Player of the Year laurels.
Meanwhile, TMU teammate Ella Brubaker, a freshman guard, led all scorers with 24. She connected on 10-of-16 shots, most from the perimeter, and added three steals and two assists, as 11 different Mustangs recorded at least one assist as the coaches cleared the bench early in the second half after mounting a 49-20 halftime lead.
For San Diego Christian (5-11 overall, 2-6 GSAC), its [air of international standouts also led the way.
Isabel Feller and Madison Beckham, who both hail from Australia, paced the Hawks' offense with 13 and 10 points, respectively. The pair combined to shoot more than 50 percent  (9-for-17) from the floor, but the remaining Hawks were just 7-for-38 in field goal attempts.
The Master's (19-0, 8-0 GSAC) broke the contest open with 31 points in the second quarter when Brubaker shot the moon with 16 of her points.
San Diego Christian will play Westmont College in Santa Barbara on Saturday. The Hawks return home for a brief two-game homestand next week, hosting Menlo College (Thursday, 5:30 o.m.) and William Jessup (Saturday, noon).
343 total views, 1 views today