County JC teams go 0-for-4 on Saturday
Updated: November 4, 2022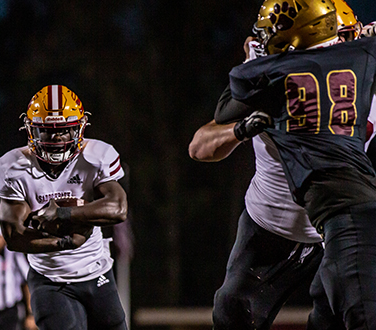 Saddleback rushes against Southwestern on Saturday.
2022 COMMUNITY COLLEGE FOOTBALL
ECS staff report
Cerritos 35, Palomar 20
ESCONDIDO — In a tale of two different ballgames, a 7-all halftime deadlock turned into a scoring fest as visiting Cerritos outlasted Palomar in Saturday's (Oct. 29) National Conference Central Division game held at Escondido High.
Cerritos committed three turnovers on its first eight plays, then figured out how to hold onto the football with big plays.
According to Cerritos officials, the school posted its "most memorable third quarter in the history of the program.:
The numbers bear it out: the Falcons scored on consecutive plays of 90, 92 and 74 yards to turn a 10-7 deficit into a 28-10 lead on the way to a 35-20 win.
Cerritos (7-1 overall, 3-0 conference) remains tied for first with Riverside heading into next weekend's showdown with the defending champion Tigers in Norwalk.
The Comets, once leading 10-7 then trailing 28-10, got a pair of late scores. Landon Ogles kicked his second field goal on the evening, then Tayjon Bullock collected a 64-yard TD pass from Kiah Reid in the final minutes.
Palomar (5-3 overall) sinks into fourth place at 1-2 in the division.
For Cerritos, the victory comes one week after retaining the Milk Can trophy with a win over nearby rival El Camino, 22-20.
---
Victor Valley 31, Grossmont College 16
FLETCHER HILLS — One week after bouncing back into the race fr a bow berth, the Grossmont Griffins were caught in a look-ahead situation.
With first-place College of the Desert looming for the division championship, the Griffins were upset by Victor Valley College of Victorville, 31-16, Saturday (Oct. 29) at Mashin-Roth Memorial Field.
It was the Rams' first-ever triumph over the G-House.
The Grossmont defense was again outstanding, but with the offense unable to control the ball, the defenders were left on the field way too often, allowing the Rams to pull away in the late going.
On offense, sophomore quarterback Elia Kirisimasi threw for 171 yards on 16-of-41 with two touchdowns and an interception.
The ground game did a little better, as Keiyon Holloway rushed for a team-high 57 yards on 10 carries but the Griffins' top back left with a leg injury.
Victor Valley (3-4, 1-1 American Mountain) opened the scoring halfway through the first quarter with a 41-yard field goal by Carlos Garcia.
Less than 90 seconds into the second quarter, the Rams tacked on an Omari McCullough 12-yard reception for a wild touchdown on a deflection and a 10-0 lead.
COMMUNITY COLLEGE FOOTBALL: @VVCfootball freshman Omari McCullough makes a TD catch against Grossmont on Saturday that you don't see very often… pic.twitter.com/B2MGruwhkM

— Ramon Scott (@RamonScottMedia) October 30, 2022
The Griffins soon answered on an 11-yard touchdown pass from Kirisimasi to James Johnson to cut the lead down to 10-7.
Five minutes later, Rams QB Tyler Karen threw his second TD pass, this time to Matthew Lowe from two yards out to make it 17-7 with less than a minute before halftime as Grossmont (3-5, 1-2 American Mountain) never came back.
Grossmont closes the home portion of its schedule next Saturday with an early 1 p.m. start against Compton College.
---
---
Fullerton 17, San Diego Mesa 7
FULLERTON — In a battle among two of the co-leaders in the National Conference Southern Division, San Diego Mesa scored its fewest points at Fullerton since suffering a shutout to the Hornets in 1984.
The decision drops the Olympians into third place, while Golden West remains on top at 3-0 to remain on course for a Nov. 13 showdown on the final day of the regular season.
The lone touchdown for Mesa (5-3 overall, 2-1 conference) came in the second quarter when Anthony Gilpin hauled in an 18-yard pass in the return of quarterback Gunnar Gray from the injury list. The score cut Fullerton's lead in half at 14-7.
However, the Hornets' defense dominated the rest of the way despite not recording a turnover, just like it did in '84 when they snapped Mesa's 10-year, 95-game scoring streak without a shutout loss.
Gray finished 19-for-38 for 205 yards, while the Mesa ground game collected a mere 66 yards on 28 tries.
---
---
Saddleback 47, Southwestern 13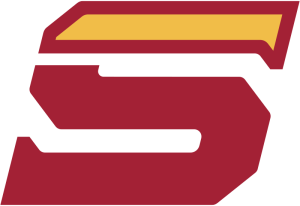 CHULA VSTA — In a contest between ballclubs going through disappointing seasons, visiting Saddleback continues to show vast improvement down the stretch,
After the Bobs dropped a 21-20 heartbreaker to San Diego Mesa, they bounced back to take down winless Southwestern, 47-13, Saturday (Oct. 29) at DeVore Stadium.
Freshman running back Kenny Manassero, a Mission Viejo High product who scored two touchdowns against Helix last season, continues to do well after inheriting the starting job three weeks ago.
Southwestern, the home team, did not file a game report to the state football office on this contest.
Saddleback moves to 2-6 overall (1-2 in the National Conference Southern Division. The Jags drop to 0-8 (0-3)
Compiled by Nick Pellegrino