Gallery: SDCC hoops fall to D-1 programs
The Hawks' Jamee Joseph (right) with one of her three blocks against San Diego State / Photo by SDSU's Derrick Tuskan
2022-23 SAN DIEGO CHRISTIAN COLLEGE BASKETBALL
From staff and wire sources
The San Diego Christian College men's and women's basketball teamed were the opening opponent for apair of NCAA Division I programs on Wednesday (Nov. 9).
The Hawks men, after falling to CSU Bakersfield on Monday, fell in front of a sell-out crowd of more than 7,000 at Grand Canyon University, 101-50.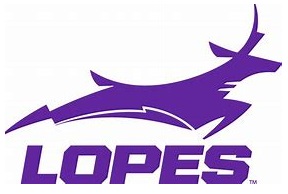 The Antelopes are the preseason favorites to capture the Western Athletic Conference championship.
Meanwhile, the Hawks women dropped an 81-30 decision to host San Diego State at Viejas Arena.
According to NCAA rules, both games count on the records for the CSUB Roadrunners, GCU 'Lopes and SDSU Aztecs. However, the NAIA allows exemptions, so none of the losses count against SDCC.
---
MEN: SAN DIEGO CHRISTIAN at GRAND CANYON
Photos courtesy of AZCentral.com
---
WOMEN: SAN DIEGO CHRISTIAN at SAN DIEGO STATE
Photos by Derrick Tuskan/SDSU
220 total views, 4 views today