Unappreciated Griffs claim CCCAA opener
Updated: November 25, 2022
Grossmont College women's volleyball. / Vanilla Gorilla
2022 COMMUNITY COLLEGE WOMEN'S VOLLEYBALL /  / CCCAA STATE PLAYOFFS
From staff and wire reports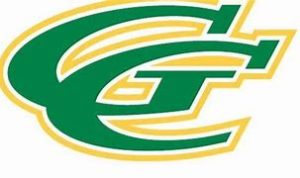 PASADENA — The women's volleyball poll offered by the California Community College Athletics Association held San Diego Mesa among the state's top five schools throughout the first half of the season.
No complaints there. The Olympians lone loss was to No. 1 Ventura, the clear favorite to claim the state championships.
However, the second half of the season belonged to Grossmont College. Included was a pair of victories over Mesa — one was a3-set sweep — going on capture consecutive Pacific Coast Athletic Conference titles.
When the regular season concluded, the Griffins, winners in 19 consecutive matches, owned an equivalent record over Mesa, including the season-series sweep. But when the CCCAA state tournament seeds were released, Mesa was elevated to the No. 3 seed in the South Regional, while Grossmont was dropped to the No. 9 slot.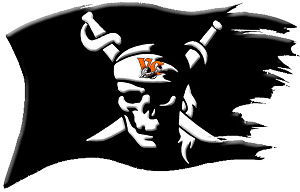 However, in Tuesday's (Nov. 22) start of the main draw in the tournament bracket, the volleyball gods were looking down on the Griffins.
Despite a long trip through L.A. Griffins, Grossmont eliminated No. 8 seed Pasadena in five sets, 25-14, 25-16, 23-25, 23-25, 15-11). Meanwhile, Mesa hosted No. 14 Santa Barbara, yet were ousted by the Vaqueros, also in five, 25, 26-24, 25-18, 10-25, 15-13.
While Mesa's season ends, Grossmont will face its toughest challenge of the season on Saturday, traveling to meet the top-seeded Ventura on Saturday. The Pirates opened with a sweep of MiraCosta, 25-20, 25-19, 25-16).
Lasso the Lancers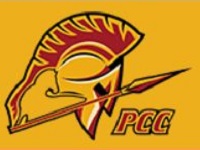 To defeat Pasadena, the Griffins eaily took the first two sets, but the Lancers came back with a pair of 25-23 sets win to force a tiebreaker.
Inthe fifth set, Pasadena took an 8-6 set, then Grossmont slammed the door with eight straight points to go up 14-8.
The streak started on a kill by Aly Guise (from, then a pair of service aces by [Lauren Dumo] to both tie and take the lead.
rooke Miller sandwiched a pairof kills around a Pasadena spikig errorinto the net. Miller would later add the match-clinching spiker on a cross-court winner on an assist from Dumo.
Grossmont has now won 20 straight matches.
Miller finished with a matchhigh 13 kills, but teammate Madi Bogle added 12 putaways and a team-high 11 digs.
Griffins setter Chelsee Trendler recorded 42 assists, while
For Pasadena (17-8)< the 4th-place finisher in the South Coast Conference, Reese Roper led with 14 kills.
Phi Mesa Face-a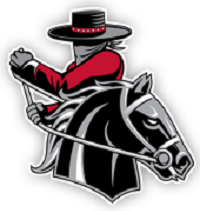 LINDA VISTA — During a Western State Conferenc ematch Santa Barbara became the only team to defeat Ventura to finish in third place behind Moorpark.
However, the Vaqueros were not happy with such a low seed, while many others voiced opposition on Mesa's high seed.
So Santa Barbara did something about in dominating the opening sets to take a 2-1 lead.
The Olympian then smashed Santa Barbara, 25-10, in the fourth set to forge a tie-breaker, but Santa Barbara bounced back to eliminate the Olympians. READ MORE