State Championship: Granite prevails in overtime, 31-24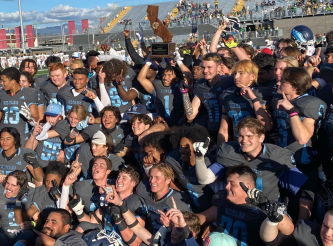 2022 EAST COUNTY PREP FOOTBALL
CIF State Championship
Division 3-A Final
At Saddleback College
GRANITE HILLS 31,
SAN RAMON VALLEY 24 (OT)
By Nick Pellegrino
ECS staff writer
MISSION VIEJO  —  The greatest season in the history of Granite Hills High football came to a dramatic conclusion Saturday (Dec. 10) after the Eagles garnered the CIF State Championship in Division 2-A by edging San Ramon Valley High of Danville, 31-24 in daylight overtime in the daylight finale held at Saddleback College Stadium.
In a ping-pong second half when Granite Hills would score, only to be matched y an identical score by San Ramon , the Wolves kicked a 37-yard field goal with 14 seconds remaining to force overtime.
However in the extra session, the second touchdown rush by the Eagles' Isaiah Jackson (10 and 2 yards) proved to be the difference. The Eagles then stopped a fourth-down play by the Wolves to cap yet another victory for San Diego Section schools.
For the second consecutive season, CIFSDS schools took home three state titles.
On Friday, Mater Dei Catholic (2-AA) and Lincoln (1-AA) took home titles. Last season, it was Cathedral Catholic (1-AA), Mater Dei Catholic (2-AA) and Scripps Ranch (2-A).
When Granite Hills started football in the 1960 season, the Eagles needed the final game of the regular season to win their first game, stopping Hilltop, 13-12, on a field int he middle of the racetrack at Cajon Speedway. It took more than 60 years, but the ballclub took home its first-ever section and state crowns, and will enter next season on an impressive 9-game winning streak.
First Half
The only time San Ramon Valley failed to immediately answer a Granite Hills score came late in the first half.
Senior receiver Davion Green raced by a Wolves cornerback and hauled in a 30-yard Parlan Sanders pass in the right corner of the end zone for a 7-0 advantage.
SRV tried to respond, but with the clock winding down, a deep pass over the middle was intercepted by Easton Peterson with 14 seconds left. Peterson, a senior, made a leaping, one-handed grab in a highlight-quality play.
Third Quarter
Wolves quarterback Luke Baker  threw for a pair of touchdown passes. His first went 38 yards to Trevor Scott on a deep route down the right sideline to tie the contest.
Granite Hills re-claimed the lead on a spectacular 44-yard run by Maxwell Turner.
Granite Hills, which rotates its quarterbacks, saw senior Nico Tomasello direct a 65-yard scoring drive.
Following a 33-yard kickoff return by Green – the kicker needed to assist on the tackle or it might have been a 98-yard runback to the house — Tomasello  completed a series of short passes to pass midfield, then Turner burst to the left side on a highlight-quality 44-yard TD burst.
Turner skipped by two Wolves tacklers, three other defenders made contact, yet he kept his balance and raced along the left sideline for s 14-7 lead
However, Baker then found  Scott on a 4-yard connection over the middle at the back-line in front of the goal post, leaving the ballclubs level at 14-all.
Fourth Quarter
The Eagles answered with another long scoring march, this time set up by a long kickoff runback by Joaquin Thomas of 33 yards.
Moving 63 yards to the Wolves-10, Jackson then opened the final period with a  run HOW.
The drive featured a 24-yard, right-side rush by Jackson to convert a fourth down from just SRV territory.
Baker moved the Wolves even yet again, this time utilizing his feet.
Unable to find an open receiver, which occurred throughout the first half when Granite hills shut them out,Baker twice scrambled for first downs — including a 38-yarder — then completed a 80-yard drive on what looked like an intentional QB draw of 5 yards to forge a tie at 21-all.
Baker scored despite plays by Granite Hills defender Damarrion White, who registered a sack (later nullified by a penalty) and deflected pass on nice consecutive stops.
Feet First
When Granite hills defeated Helix in four overtimes to cap the regular season and claim the Grossmont Hills League championship, both kickers booted long field goals to cap the first two extra sessions and extend the contest.
Similarly, both kickers did the same in the final minutes in this battle royale. Both were nonequivalent distances.
The Eagles' Robert Petrich  connected from 38 yards with 3:22 remaining. Zak Darling set up the booth with a 42-yard scamper.
Meanwhile, the Wolves' kick was good from 37 yards with 14 seconds to go following a big third-stop by Granite Hills to prevent a game-winning Wolves touchdown.
Baker aided the drive with a 24-yard keeper, part of his team-best 86 rushing yards.
The O.T. in The O.C.
Granite Hills held the first possession, with Sanders gaining 10 yards on a scramblre to therigth after not finding an open receiver.
Two additional Eagles runs moved the ball to the Wolves-2 — all behind right tackle Moshi Tileia Jackson raced up the middle for the score.
San Ramon Valley's possession saw a narrow first-down gain to the 15, but pressure from Grante's D-line resulted in a series of incomplete passes to clinch the championship.
Notes
The title was the first for Granite Hills head coach Kellan Cobbs, who earlier this season became the Eagles'all-time leader in coaching victories, surpassing the legendary Paul Wargo.
Prior to this season, Granite Hills had never won an overtime contest. This season, they win twice – the previously-mentioned 4-OT thriller with Helix, and now over San Ramon Valley.
-Jackson, a sophomore,led the Eagles with 92 rushing yards on just 13 carries, as Granite Hills collected nearly 400 yards in total offense (395-to-314).
Summary
EAGLES 31, WOLVES 24 (OT)
San Ramon Valley (12-3)... 0 0 14 10 0 - 24
Granite Hills (13-2)...... 0 7  7 10 7 - 31
Second Quarter
GH — Green 35 pass from Sanders (Petrich kick), 4:16
Third Quarter
SRV — Scott 38 pass from Baker (Shelton kick), 8:26
GH — Turner 44 run (Petrich kick), 6:33
SRV — Scott 4 pass from Baker (Shelton kick), 3:50
Fourth Quarter
GH — Jackson 10 run (Petrich kick), 11:56
SRV — Baker 5 run (Shelton kick), 5:56
GH — FG Petrich 38, 3:22
SRV — FG Shelton 37, 0:14
Overtime
GH — Jackson 2 run (Petrich kick)
Team Statistics
                    SRV  GH
Total Offense       314 395
Rushing             129 250
Passing             185 145
Comp-Att-Int    20-43-1 14-20-1
Penalties-Yds       1-5 4-35
Fumbles-Lost        0-0 1-1
Individual Statistics
RUSHING
San Ramon Valley: Baker 19-86, Williams 5-49,  Rivera 7-23, Mendoza 6-19.
Granite Hills: Jackson 13-92, Turner 13-84, Darling 4-54, Sanders 4-9.
PASSING
San Ramon Valley: Baker 20-43-1-185.
Granite Hills: Tomasello 8-11-1-79, Sanders 6-9-0-66.
RECEIVING
San Ramon Valley: Scott 8-86, Dodson 5-42, Padrid 3-41, Rivera 2-(minus 4).
Granite Hills: Riley 5-67, Green 3-50, Thomas 2-9, Zander 2-8.
SACKS
San Ramon Valley: McKenna 1.
Granite Hills: Bertalan 2, Zeigler 1, Ibarra 1, Glaze 1, McClement 1, Harper 1.
TURNOVERS
Interceptions
San Ramon Valley: Scott 1.
Granite Hills: Peterson 1.
Fumble Recoveries
San Ramon Valley: Jones 1.
Granite Hills: none.
---
760 total views, 1 views today